Is the Mariah Carey + Nicki Minaj Feud a Publicity Stunt for 'American Idol?'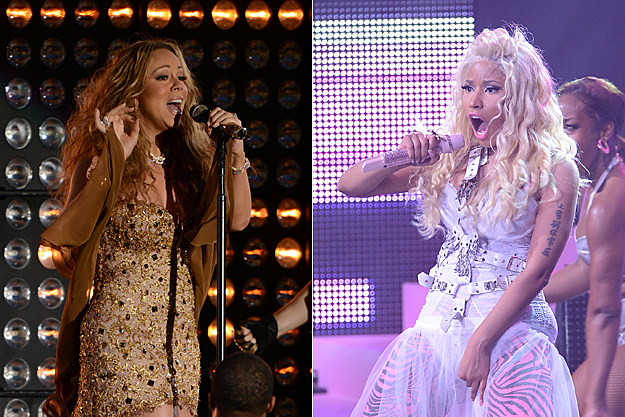 When video surfaced of Nicki Minaj berating a bemoaned Mariah Carey on the 'American Idol' set, it obviously was going to get tongues wagging. But was that deliberate?
Rumors are surfacing from skeptics that the entire argument, which was conveniently caught on camera and sent to TMZ, may have been a publicity stunt for 'Idol,' especially since its ratings haven't been that great in the past two seasons. Is there any truth to that?
Experts say that it's possible, but not probable.
E! Online spoke with industry experts, including entertainment and contract lawyers, who said that the ladies being forced to snap at each other likely isn't in either of their contracts. "There is nothing I've seen that's the contractual equivalent of 'you must pick a dispute with one of the contestants' or 'you must be extraordinarily mean,'" entertainment lawyer Brian Sullivan told E!.
However, that isn't to say that the ladies wouldn't turn up the drama if they knew a camera was on and that it's what their producers expected and wanted them to do. "Oftentimes the contracts are very broad and open-ended," entertainment lawyer Chad Fitzgerald explained. "The language usually says that the talent will go along with producers' reasonable instructions, and their direction." Which means, if a producer pulled the Harajuku Barbie aside and suggested she give Mimi a piece of her mind, she'd likely go along with it.
Still, E! sources confirm that the feud is, indeed, a genuine one — and that Minaj was shocked when Carey went to the press and said she threatened the musical legend with a gun, an allegation Minaj vehemently denies. A source said that Minaj felt "blindsided" by the allegations, telling E!, They agreed to move forward in a positive light and not speak about the incident to the press. Hence why Nicki went to Twitter to express her shock. She feels Mariah is trying to get sympathy by saying she threatened to shoot her, and that the incident never happened." To be fair, is it us or does that source sound suspiciously similar to a publicist? We heart Nicki, but we're just sayin'!
As it turns out, the dueling divas have actually resented one another for a while. The source claims, "There was always hostility between the two. Mariah made it clear that she wanted to be the only woman on the [judges'] panel, and Nicki felt Mariah was being passive-aggressive with comments toward her." That all came to a head in the infamous Charlotte, N.C. audition video, the source explained, "because Nicki felt as if Mariah was trying to relegate her, and it culminated/exploded in the scene that was leaked."
Watch the Mariah Carey 'Up Out My Face' Video Feat. Nicki Minaj
Subscribe to Mix 94.1 on

Source:
Is the Mariah Carey + Nicki Minaj Feud a Publicity Stunt for 'American Idol?'