Pink's Love Affair With Australia Continues, Breaks Pair of Records With Melbourne Shows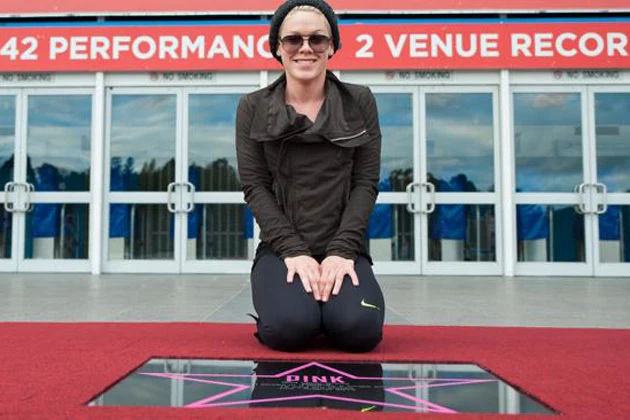 Talk about true love: Pink and Melbourne, Australia! The singer and the city's mutual affection has yet again yielded record-breaking results.
In fact, Pink broke TWO records in Melbourne during her Truth About Love world tour. She sold out an amazing 18 shows there in July and August, surpassing the number of 17 set in 2009 — by Pink! She also set a venue record at Rod Laver Arena, selling more than a half-million tickets there throughout her career. Some 250,000 people have caught her Melbourne shows this summer, making her the first artist ever to play to so many people in the city on the same tour.
"It's been incredible," Pink says of the record-setting run. "It's hard to take it all in, I'm sure in five years I'll look back at this and realize how insane it is."
The arena marked the occasion permanently, dedicating a sidewalk star, structural pole (her second) and backstage plaque — which Pink cheekily signed to her fellow performers, "Follow that bitches!"
Not only does Melbourne love Pink, she loves the city right back.
"The 18th show in Melbourne has definitely been a highlight," Pink says. "But every night is a highlight. You look out in the crowd and there's so much genuine love. It's not bulls—. There's people there from two years old to 72 years old. It's awesome."
She brought the good vibes with her to Twitter too:
I'm overwhelmed with all the love and positivity Melbourne/Australia/Rod Laver Arena. Two poles! A star! A plaque! pic.twitter.com/GmHJM4NdYS

— P!nk (@Pink) August 26, 2013
This has been an unforgettable experience for my family and I. We love you right back… Thank you thank you.Lets break this record y'all…

— P!nk (@Pink) August 26, 2013
Here's Pink thinking how best to encourage her fellow artists in a message on her backstage plaque
Her adorable daughter Willow had a better-than-front-row seat for the celebration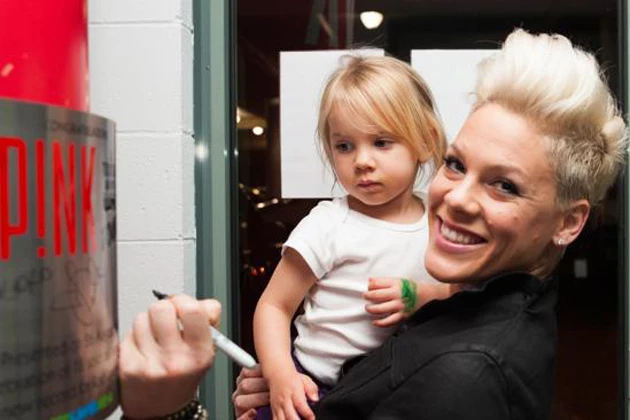 Source:
Pink's Love Affair With Australia Continues, Breaks Pair of Records With Melbourne Shows