Miley Cyrus Hints at New Music for 2013 Billboard Music Awards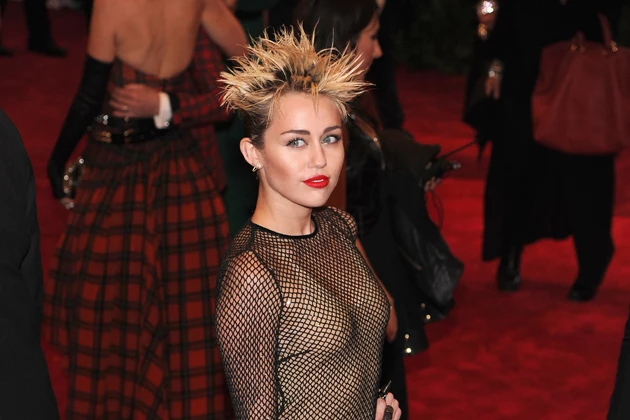 Miley Cyrus has been teasing fans with lots of photo shoots and personal drama, as well as by singing hooks on other people's songs. But her beloved Smilers were eager to hear new music from Cyrus herself as the main attraction, not the hook girl.
Good thing Cyrus is finally delivering … maybe. She hinted to her fans that new music — or at least an announcement about it — is coming very soon.
The newly urbanized Cyrus took to Twitter, with which she has a love-hate relationship, to announce that since she knows her fans are "thirsty," she's going to quench 'em at the 2013 Billboard Music Awards.
Just turned on POP2K on satellite and there was C U AGAIN! Dayummm y'all THIRSTY for some new music! Coming soon! I promise! Stay tuned

— Miley Ray Cyrus (@MileyCyrus) May 10, 2013
Maybe y'all will find out a LIL sum at the up coming @billboard music awards!

— Miley Ray Cyrus (@MileyCyrus) May 10, 2013
Maybe…. Like…. A…. Singgggg…..llllleeeee……………..

— Miley Ray Cyrus (@MileyCyrus) May 10, 2013
As for what sounds to expect? Hip-hop … maybe.
"I want this record to be something different and a bunch of passion projects," Cyrus revealed about her new sound. "The first thing I would not have calculated [is] the first song I want to come out is going to be me and Snoop Dogg … that's never what I thought was what was going to be … I thought it would be my single first. But I've been able to do these things where I've been in the studio at the right time and these projects just magically kind of happened … and now it's going to be the first thing people will hear from me," she said of 'Ashtrays and Heartbreaks.'
The rest of her album may not be quite as urban as her current obsession and slang are, though. She's working with Dr. Luke, who produced 'Party in the U.S.A.!'
"I really didn't want to make a hip-hop record, and I'm not trying at all to be a Rihanna or a Nicki [Minaj]….That's not my vibe," she said. "When I was growing up, my older brother would sneak me Nelly CDs, my dad had me listening to Dolly [Parton] and Johnny [Cash], and my mom is a complete metal head. So this record is a weird mixture of all that."
Next: Who Wore It Best - Miley Cyrus or Rosie Huntington-Whiteley?
Watch the Snoop Lion 'Ashtrays and Heartbreaks' Lyric Video Feat. Miley Cyrus Source:
Miley Cyrus Hints at New Music for 2013 Billboard Music Awards