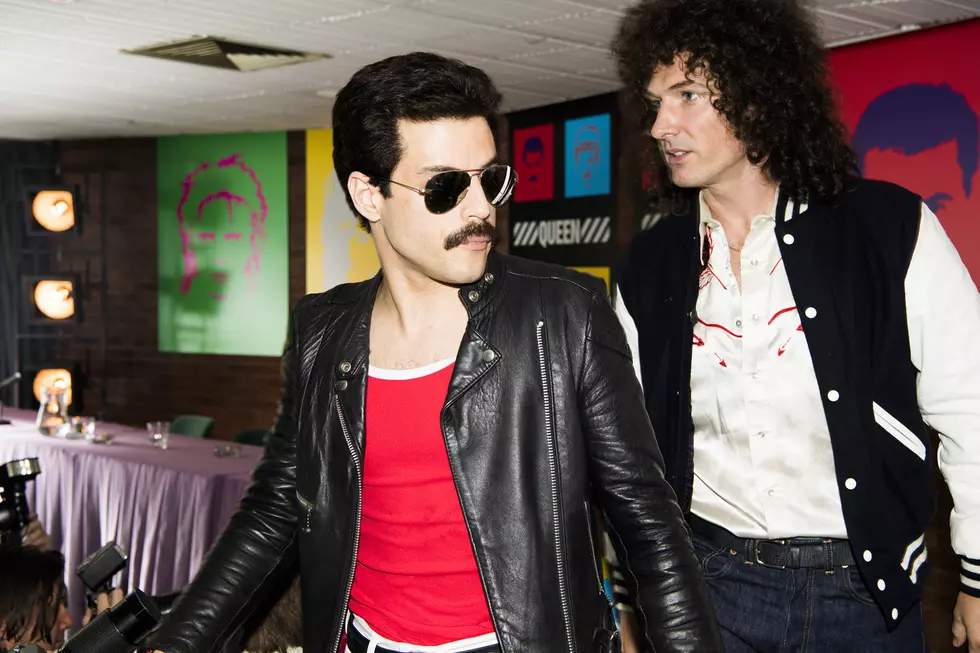 Pictures From Queen 'Bohemian Rhapsody' Film Emerge
Photo Credit: Courtesy Twentieth Century Fox
Twentieth Century Fox has released two stills from Bohemian Rhapsody, the upcoming Queen biopic. The studio presented a trailer to the press at CinemaCon in Las Vegas and also produced an official synopsis.
The first picture features Rami Malek and Gwilym Lee as, respectively, Freddie Mercury and Brian May. With a pair of cameras and a microphone visible, it would appear that they're facing the press. The second features a depiction of all four members at London's Wembley Stadium during their famous performance at Live Aid. We've embedded both images below.
According to the synopsis, "Bohemian Rhapsody is a foot-stomping celebration of Queen, their music and their extraordinary lead singer Freddie Mercury, who defied stereotypes and shattered convention to become one of the most beloved entertainers on the planet. The film traces the meteoric rise of the band through their iconic songs and revolutionary sound, their near-implosion as Mercury's lifestyle spirals out of control, and their triumphant reunion on the eve of Live Aid, where Mercury, facing a life-threatening illness, leads the band in one of the greatest performances in the history of rock music. In the process, cementing the legacy of a band that were always more like a family, and who continue to inspire outsiders, dreamers and music lovers to this day."
Screencrush says that the trailer included footage of the Live Aid concert scene and several Queen songs, but they define the reaction from the crowd as "positive-to-mixed." Tweets we've found from those in attendance praised the performance by Malek, who also addressed the reporters.
Bohemian Rhapsody will be released Nov. 2.
Everything You Need to Know About the Queen Movie 'Bohemian Rhapsody'