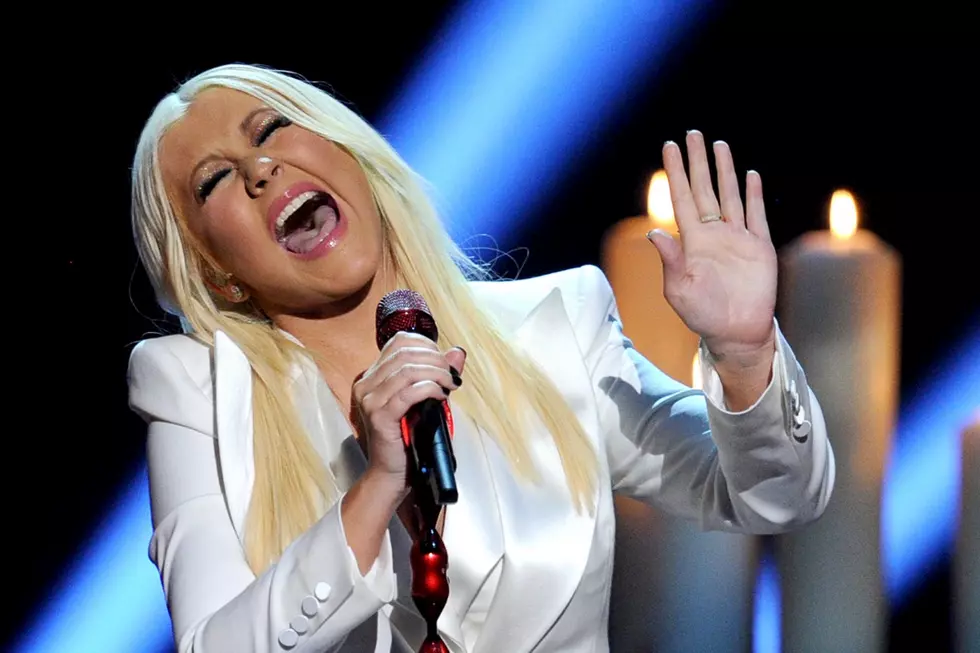 8 Songs Christina Aguilera Would Have Absolutely Nailed
Kevin Winter, Getty Images
Since the release of Lotus back in 2012, the pop star has been relatively quiet on the music front, aside from three notable collaborations in 2013 ("Say Something," "Do What U Want" and "Feel This Moment"), as well as a few below-the-radar soundtrack releases.
Even though Xtina has been steadily teasing new music since 2014, an album (or even a lead single) has yet to materialize, to the point where a video compilation of her multiple interviews regarding the non-existent LP became a runaway meme online.
But while fans (impatiently) await Xtina's next move, we thought we'd help pass the time just a little faster by sharing some top-notch tunes the vocalist could very easily have made her own. From Charli XCX to Allie X, let your imagination run wild with these eight tracks that have Christina Aguilera written all over them.
---
"Stay Up Late," Monsieur Adi and Red
Wigs would fly all across the world if Christina returned to the scene with a high-intensity banger, and Monsieur Adi's "Stay Up Late" certainly fits the bill! With a ridiculously infectious pre-chorus hook, and plenty of moments for some powerful vocal runs (a necessity, as Christina would probably agree), "Stay Up Late" is a proper belter that would have seen the pop star ruling the clubs (and hopefully the charts!) if she had released it.
"Love Incredible," Cashmere Cat ft. Camila Cabello
Camila Cabello's debut single samples one of Christina's most timeless hits, "Genie In a Bottle," but that's not the only one of her songs Xtina could have elevated to a whole new level. While Camila's vocal abilities may have been a bit…challenged on "Love Incredible," it's hard to imagine Christina struggling with the track, and Cashmere Cat's lush production coupled with her commanding range would have made for an exquisite pop moment. Fingers crossed for a collaboration between the two in the future!
"Lipgloss," Charli XCX ft. CupcakKe
"Lipgloss" has undeniably given "Woohoo" a run for its money as our new favorite ode to dining downstairs, and it would probably take that title had Xtina jumped onto the song as well! With Charli's sticky sweet chorus, and CupcakKe's deliciously potty-mouthed rap, the gloriously dirrty track would have been a perfect fit for her. Forget any "Lady Marmalade" reincarnations: Charli, Christina and CupcakKe together on one song is the X-rated anthem we deserve.
"Lost In Your Light," Dua Lipa ft. Miguel
Dua Lipa boasts some serious vocals of her own, so it's easy to see how Christina could slide into "Lost In Your Light" without needing to re-imagine its sound. While Christina may not be known for her more laid back recordings, this breezy collab with Miguel could have been a surprise summer smash for the two of them... and show off a new side to Christina that just may have won her over a few new fans.
"Power," Little Mix feat. Stormzy
A girl power anthem that doubles as a barely tongue-in-cheek bedroom banger? Little Mix's latest single absolutely screams Christina, and would have made for a fantastic comeback single (with a few more "motorbike"s thrown in, of course). And let's not forget all the possibilities for its music video, because whether she's hosing them down, or clubbing them to death with a baseball bat in a public restroom, Christina definitely knows how to keep the boys in check while delivering one hell of a visual.
"Casanova," Allie X
If Christina were to do something a little more "artsy fartsy" (as Britney Spears might put it), this track from Allie X could be an exciting new direction for her. With most of the song delivered at just above a whisper, "Casanova" bristles with barely-contained emotions about a toxic lover. And when said emotions finally bubble over towards the song's end, "Casanova" almost self-destructs, as the mind battles the heart, and anger clashes with love. It's a passion-overload, and that's something Christina would assuredly have delivered on.
"Fetish," Selena Gomez feat. Gucci Mane
While Selena and Christina are undeniably on opposite ends of the spectrum in terms of singing style, with a little restraint, Aguilera could effortlessly smash Selena's latest single. And as an added bonus, her decidedly meatier voice could probably add a little extra grit to the song, making "Fetish" a smouldering addition to her discography. It'd also be interesting to see what Christina cooks up for its music video—there's not going to be much that can top "Not Myself Tonight."
"Instruction," Jax Jones ft. Demi Lovato and Stefflon Don
Jax Jones may have released the song of the year with "Instruction," a balls-to-the-wall banger that's all about feeling yourself like no one else. And as the self-professed queen of confidence (she's not cocky, she just loves herself!), Christina would have made for the perfect guest vocalist had Demi Lovato missed Jax's phone call. "B---h, I don't need introduction" is definitely a lyric meant to be sung with plenty of conviction—and it's a tagline Xtina would certainly make her own.
Christina Aguilera's Most Outrageous Looks: