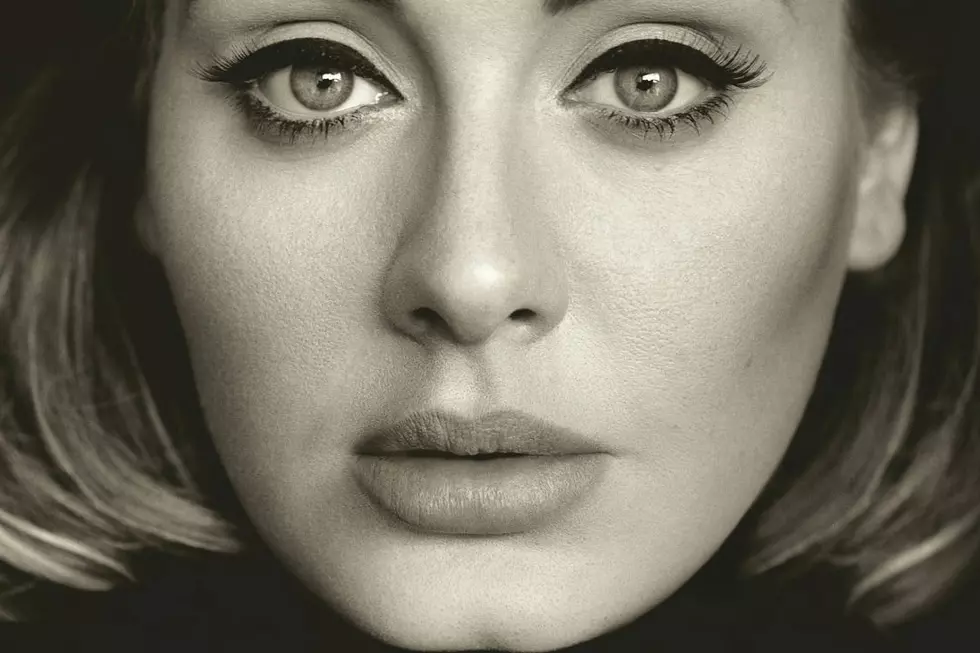 Adele's '25′: A New Story, An Uncompromising Recitation
XL Recordings
Toxic. Breakaway. Irreplaceable. Sometimes, with mention of a single word, the winds behind a pop artist's sails can change, and in the case of "Hello," Adele spelled out with explicit clarity that—with respect to storytelling—she'd moved on from the bleak: She was on the other side.
25's opening phone call, the singer's first release from an LP since 2011's "Turning Tables," appeared to immediately leave an impression on each receiving end. Upon selling 1.1 million digital copies in its very first week, "Hello" nearly doubled Billboard's existing record and proved the singer's enduring, soulful sound—paired with much less of 21's listlessness—was a winning combination, and one on which her third studio album comfortably rests.
Adele's booming voice considered—and it could shake sheets of bedrock—the Grammy- and Oscar-winner has come to understand she can cut deeply without sounding like a try-hard. In "Miss You," an eerie, percussion-heavy burn produced by Paul Epworth, she trusts her sword is sharp enough to deliver fatal blows and doesn't waste time swinging it around for show. The steady, powerful upward progression cautions against letting a good thing go while chronicling slinky movements and sexy memories. "Brushing past my every groove / No one has me like you do," she croons with adoring purrs 21 would have never considered hosting.
"When We Were Young," which boasts the commercial longing of Ed Sheeran's "Thinking Out Loud" (and will likely become as firm a radio-pillar), finds Adele similarly soaring while her muscles, miraculously, remain relaxed. Suddenly, she's a tightrope walker who shrugs off heights, sure the cable's other side is a safe bet. And as far as confidence is concerned, it's in no short supply through "All I Ask," a requisite bit of relationship-drama that wouldn't feel out of place as a Broadway show's big number. "If this is my last night with you / Hold me like I'm more than just a friend," she pleads over sweeping piano. "Give me a memory I can use."
At some point while crossing "River Lea"—a uniquely cool Danger Mouse production that delivers "Rumor Has It"'s thumping, unrepentant gruffness—Adele stumbles a bit. It's in her reaching for contemporary dance appeal, a pop artist's seeming obligation 25 otherwise smartly ignores, that the album's reception experiences static. The Max Martin-made "Send My Love (To Your New Love)" sticks out like a sore thumb and digests as unpleasantly as a housefly in a bowl of otherwise savory soup. "Water Under The Bridge" is tailor-made for Top 40, too, but is saved by some truly stunning harmonies, and goes down a little more smoothly.
A pair of anomalies aside, 25 succeeds in its maturity, and is clearly the work of an artist who understands the textures and limits of her voice (Adele wrote on each of the album's 11 tracks). But where lyrics are concerned, it could do with a little finesse. The story's sentiment is clear, but often suffers for remedial fortune cookie bromides: It's Ulysses told through a series of nursery rhymes, a bible broken down for Sunday School.
From start to finish, Adele—with very few exceptions—relies on elementary rhyming couplets that do her sophisticated practice and craft a real disservice. "Remedy," a beautiful ballad, observes "When the world seems so cruel / And your heart makes you feel like a fool," while "Love In The Dark," a let-him-down lament with a striking violin bridge, bemoans "I can't love you in the dark / It feels like we're oceans apart." This isn't to say her stories should be more complicated (some of Joni Mitchell's verses should have been delivered with complimentary road maps), just a little bit more carefully considered. Adele's voice and industry impact are unique; text should follow suit, and in a world otherwise occupied by "Bad Blood" and "Stitches," a little bit of worldliness could only help her cause.
It's kind of strange: In interviews and at press events, Adele seems so agreeable. Her love of profanity aside, she's polite, insightful and charming as hell. But on 25, she's not budging an inch (well, maybe just the one or two...), and her obstinate commitment to the smokey, classic sound of yesteryear isn't waning in popularity—in fact, it's still picking up steam.
Sure, as she grows up, her message and perspectives have shifted—she's blatantly said as much—but the spirit of the single teenager who sang "Chasing Pavements" and the spirit of the mid-20s mother who recorded "Million Years Ago" is the same. 25 evolves where it should and remains uncompromising otherwise—that considered, it's proven to be every bit worth the wait.
See a collection of celebrities who went to high school together: