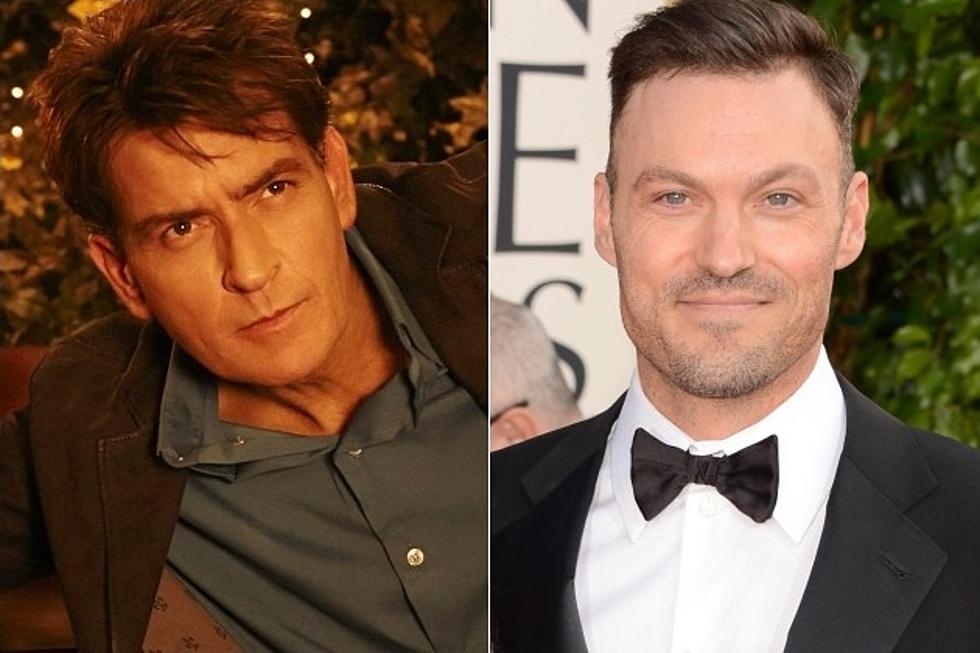 'Anger Management' Upgrades Brian Austin Green to Series Regular Following Selma Blair's Exit
FX / Jason Merritt, Getty Images
Shortly before Charlie Sheen's 'Anger Management' aired Thursday's all-new episode "Charlie and the Hot Nerd," word broke that the 10/90 FX series would introduce a new male series regular as a foil to Charlie, and complement to the new female lead replacing Selma Blair. Shortly after the episode's airing, that new male regular was revealed to be none other than recurring guest star Brian Austin Green!
Having appeared in the series premiere, as well as several episodes in recent weeks, former '90210' star Green will go from recurring to regular in his role as Sean, boyfriend to Charlie's ex-wife Jen (Shawnee Smith) and occasional nemesis to Charlie himself. Most recently, Green led the now-cancelled TBS comedy 'Wedding Band,' and had been recognized in recent years for his addition to cult favorite 'Terminator: The Sarah Connor Chronicles.'
Among the other revamps to the ratings-starved series in the wake of Selma Blair's confrontational departure, 'Anger Management' will also soon add a "gorgeous, sexy" 30-40s actress of either Latina or Caucasian descent to play a by-the-book psychiatrist who joins Charlie Sheen's character in co-authoring the sex study he and Kate (Blair) were working on before her apparent departure. The casting has been compared to the 'Cheers' Diane and Rebecca switch.
Well, what say you? Will 'Anger Management' undergo a renaissance with Brian Austin Green and a new female lead replacing Selma Blair? How would you want to see the Charlie Sheen series improve over its 100-episode run?