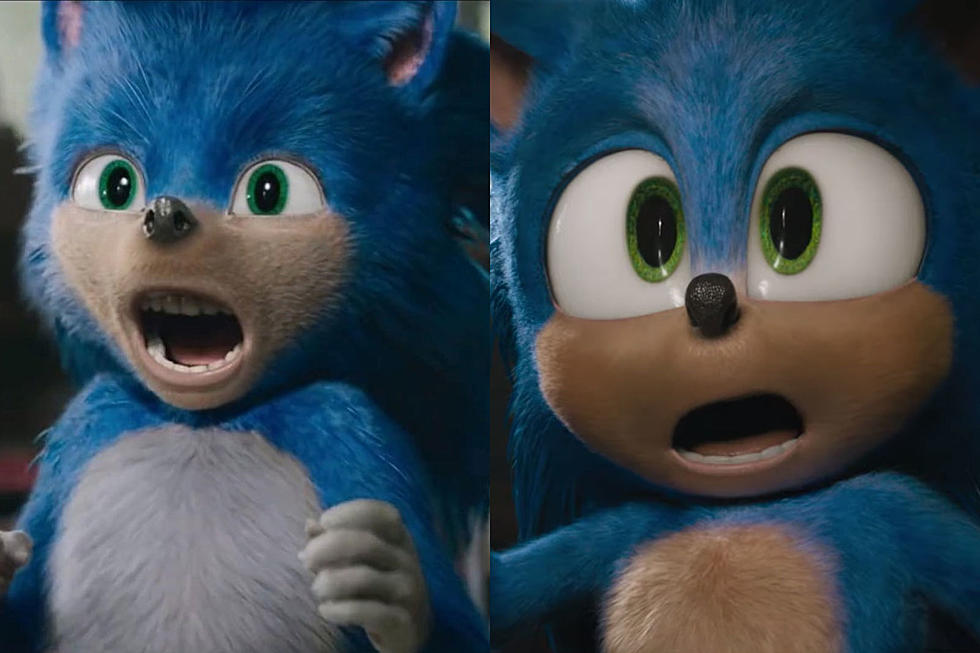 Here's the New (and Improved?) Sonic the Hedgehog Trailer
Paramount
When the first trailer for the Sonic the Hedgehog movie came out, response to the title character was so loud and overwhelmingly negative that Paramount took the highly unusual step of postponing the movie so it could answer fans' complaints. They retooled the character and now the movie is coming out next February. Today, we got our first look at the new and improved Sonic and ... it does look better?
You can see the comparison above. The original, for reasons not even God could explain, looked more like an alien critter, with furry hands, smaller eyes, a snout with two very visible nostrils and weirdly accentuated teeth. The new one looks like Sonic from the Sega games series; gigantic eyes, button nose, gloves on his hands, big goofy feet. He's no longer the stuff nightmares are made of. So that's win, I suppose.
The new trailer also has a lot more of Sonic's goofy personality and comedy in place of the "cool" action from the original trailer. Watch it below:
Here's the film's official synopsis:
Based on the global blockbuster videogame franchise from Sega, SONIC THE HEDGEHOG tells the story of the world's speediest hedgehog as he embraces his new home on Earth. In this live-action adventure comedy, Sonic and his new best friend Tom (James Marsden) team up to defend the planet from the evil genius Dr. Robotnik (Jim Carrey) and his plans for world domination. The family-friendly film also stars Tika Sumpter and Ben Schwartz as the voice of Sonic.
Sonic the Hedgehog opens in theaters on February 14, 2020. I cannot imagine a more romantic Valentine's Day movie!
Note: As Amazon Associates, we earn on qualifying purchases.
Gallery — Our Favorite Bootleg DVD Box Art: