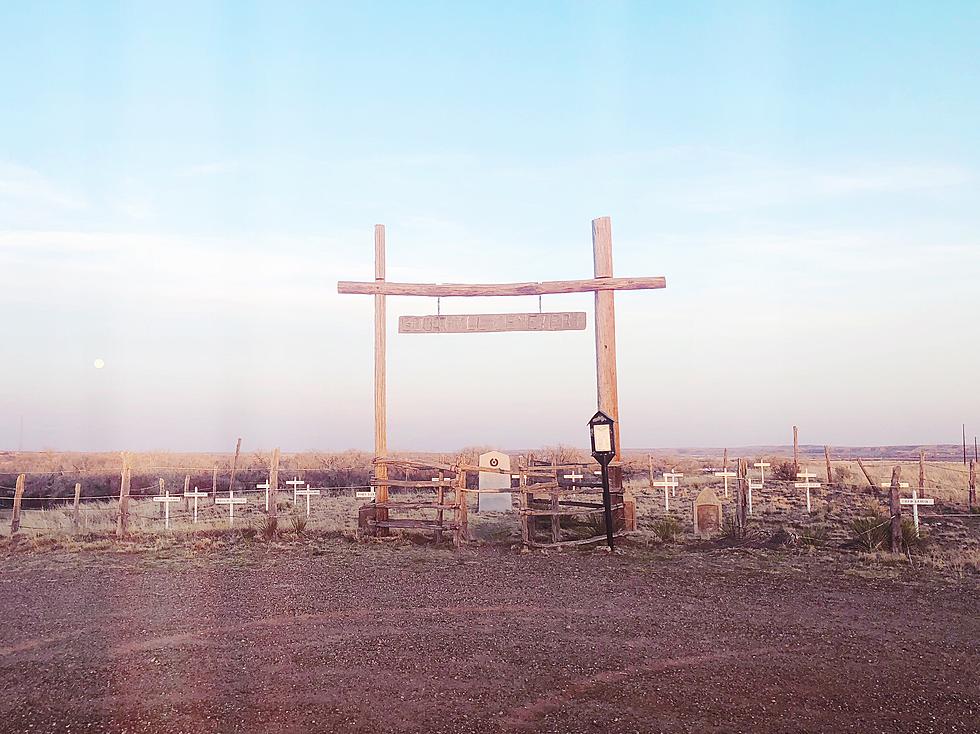 Incredible Story Of A Ghost Town, Gun Fight, And Boot Hill In Texas
Sarah Clark
Just a short drive north of Amarillo, there's an old cemetery. It's a boot hill, with ties to a Texas panhandle ghost town and one incredible gun fight.
And The Award For Rowdiest Old West Town In The Texas Panhandle Goes To...
Old Tascosa. Tascosa was infamous. Brothels and gambling houses drew clientele from all over. In fact, Billy the Kid is rumored to have spent some time in the Old Tascosa area selling horses that he would later steal.
At least, that's how some of the stories go.
It was a hotbed of action, if you believe the lore. But nothing could possibly compare to the gunfight that took place that outdid the gunfight at the O.K. Corral (true story).
Scorned Lovers And Six Shooters
To try and summarize a long story that involves competing ranches, the Texas Rangers, and Pat Garrett; a woman by the name of Sally dumped her boyfriend Lem Woodruff. Her boyfriend took the news kind of hard.
The straw that broke the camel's back though, was when her new boy-toy, a former Texas Ranger by the name of Ed King, decided to publicly humiliate Woodruff.
What came next is something that sounds like it was ripped straight from a Hollywood western.
The Big Fight At The Jenkins Saloon
There was plenty of blood shed on March 21, 1886 in Old Tascosa. Ed King was ambushed and shot outside the Jenkins Saloon. Woodruff pulled the trigger of the Winchester rifle used to do the deed.
At that point, all hell broke loose.
Ed's buddies and Woodruff's buddies went to war then and there. Bullets ripped through the air as the two sides fought to settle the score.
When the smoke cleared, there were more fatalities than at the infamous O.K. Corral.
Buried With Their Boots On
A boot hill is a special kind of cemetery. You understand that when you read the inscription on the marker at Boot Hill north of Amarillo.
The inscription reads:
Along with law-abiding and God-fearing men and women were buried here, often without benefit of clergy, men who "died with their boots on."
Dying with your boots on, depending who you ask, can mean a couple of things. Some say it refers to men who die while on active duty. Others, and this would be an instance of this, say that it refers to cowboys on the frontier who died in a gunfight or were hanged.
You Can Still Visit The Texas Panhandle's Boot Hill Today
You can see the headstones and markers. That includes those for the men who died in the Big Fight at the Jenkins Saloon. There among the law-abiding and God-fearing men and women are the markers of those who breathed their last on March 21, 1886.
Old Tascosa is no more. Eventually it was abandoned due to the railroad bypassing it. There are some remnants though, along with the Boot Hill. Those remnants make up part of Boys Ranch.
The Legendary Stories Behind These Six Weird Texas Town Names
It's no secret that Texas is home to some pretty strange town names. While the names of these places are strange enough on their own, sometimes the story behind the name is even stranger.
LOOK: Texas Towns With Names From All Over the World
You can be a globetrotter....without ever crossing the Texas state line!
All you have to do is make sure you've got some gas money on hand and you can hit the highway to visit these not-so-exotic Texas towns!
Longhorn Army Ammunition Plant
This abandoned Army munitions plant is now home to the Caddo Lake National Wildlife Refuge. Check out these photos from a drone tour by YouTube channel Xplore RC.