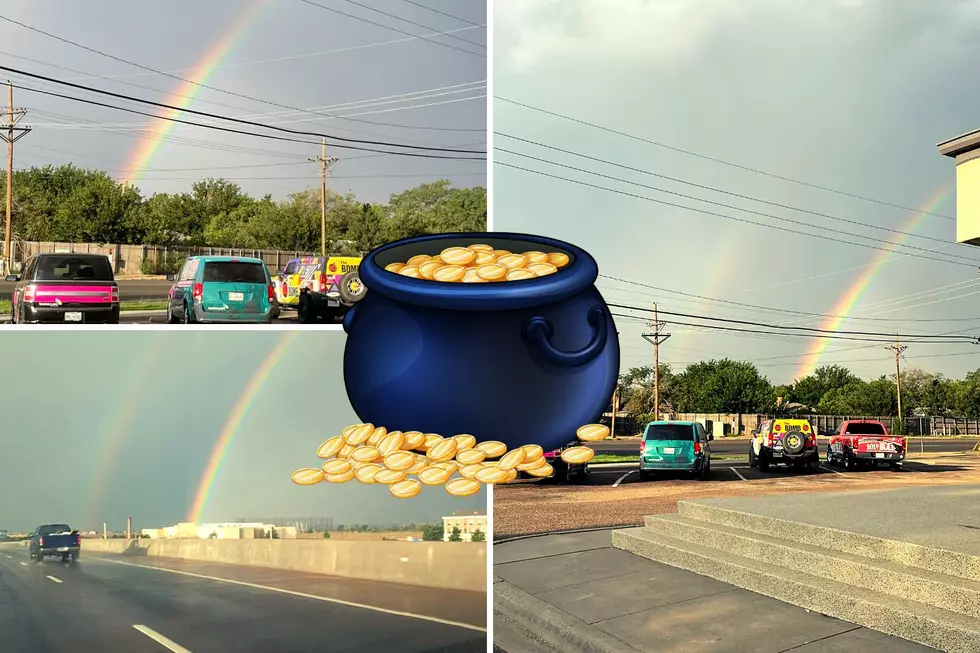 Is Amarillo Full of Gold? Rainbows Possibly Lead to Amarillo Treasure
Gary Boyett/James Fleming/TSM Amarillo
The Amarillo area got a sweet surprise this morning.
Rain and Rainbows!
I don't know about you, but I am thankful for the precipitation that we have been getting.  Some areas are getting more than others, but the rain showers sure make life so much better.
For one, the dryness isn't suffocating (even though the humidity is). Second, the much-needed rain is bringing some of the most beautiful rainbows this morning.
One of my coworkers sent me a text this morning from the front of our radio station, with this picture.  My first thought was, that the pot of gold was across the street in the trees.  Then he sent me one with a double rainbow!
This legend of the pot of gold began in Ireland where leprechauns roamed. They couldn't stand humans and didn't trust them one bit. When they found the gold the humans looted and buried, they took it and buried it so humans couldn't find it.  The legend is that these hidden pots of gold are where the rainbows meet the Earth.
I have yet to find a person who found a pot of gold at the end of a rainbow.
I do realize that it's a scientific reason that creates a rainbow, something to do with lights and reflection, but it is beautiful.
There are many significant meanings behind rainbows.
For some, it's God's promise that he will never flood the entire Earth again.  For others, it is a sign of hope.  Whatever you believe that a rainbow is, we got some pretty views this morning.
LOOK: The Enigmatic Art Oddity of Cookie Time
This quirky and whimsical place is tucked away behind a fence off US-287N and Cherry Street. While it may seem like a head-scratcher at first, you'll soon find yourself drawn to the unique and memorable displays at Cookie Time.
25 Landmarks of Amarillo and the Texas Panhandle
Live Like Royalty in this $1.2M Home on Julian Boulevard
Here is one of the majestic homes that line Julian Boulevard in Amarillo, Texas. Listed with
Velma Purdy of Keller Williams Realty,
this 5 bedroom, 5 bathroom home at 2205 Julian Blvd is a shining example of colonial-style majesty.
Just take a look at this stunning property for yourself!