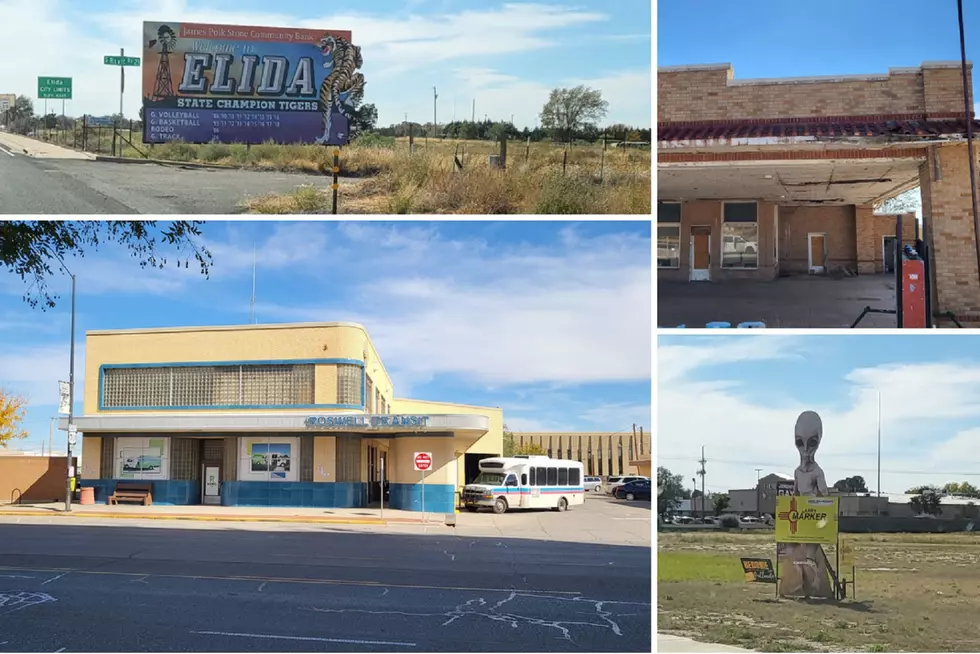 Photos: The Beautiful Amount Of Nothing Between Amarillo & Roswell
Charlie Hardin
On a whim, I took off on HWY 60 west on morning and decided to see what I could find on the highway to New Mexico. I had spent time in the area around Eagle Nest, but never ventured further south.
What I discovered, was a lot of nothing filling a beautiful landscape on the way to Roswell, New Mexico.
If You Like Nature, It's A Wonderful Drive...For The Most Part
The highways between Amarillo, Texas and Roswell, New Mexico go for long stretches with no hint of civilization. If you enjoy nature, it's a stretch of road with you in mind. Particularly, the closer you get to Roswell. Mountains start creeping up in the distance. The road winds up and down rolling hills.
With the windows down on a fairly warm day, it's a beautiful drive.
Towns Bordering On "Ghost" Status
There are plenty of places to stop on HWY 60 and HWY 70. I found an Allsup's with a restroom that would rival any Buc-ee's.
True story.
That being said, there are some towns you'll pass through that seem like they're teetering on the edge of reaching "ghost" status. More buildings are abandoned than not. The only people on the road seem to be travelers just passing through.
For a bit, it was like driving through a slice of country that the rest of the world just forgot about.
Roswell, New Mexico...Can It Get Any Cheesier Than This?
Upon reaching Roswell, I had one thought. It stuck with me my entire time there.
You've got to be kidding me.
Everywhere you looked, some extraterrestrial caricature was waiting to wave at you, welcome you to Roswell, and invite you to stay the night or have some fast food.
The further into Roswell I drove, and the closer to the visitor center I got, the more it seemed like I was being bombarded with left over props from old 1950s sci-fi movies.
Even their shopping centers get in on it. I saw more than one named with a cosmic theme.
If You Have Kids, Be Sure To Stop At The Visitor Center
The visitor center is a holy temple erected in honor of the extraterrestrials that are synonymous with Roswell. Outside and inside, you can't escape the little green men.
There's even a selfie station you can make good use of.
I walked up to the counter, where a 20s-ish looking man stood reading a magazine. Slapping my hand down on the counter, giving his nervous system a thorough shock, I asked where was the best place in town to get a beer.
He pointed me in the direction of Peppers, which I highly recommend. Food and atmosphere were good, as was the momentary reprieve from all things E.T.
All in all, I wouldn't make it a destination. I wouldn't mind driving through and stopping at Peppers again. Plus, if you've got kids, they'll get a kick out of all the E.T.s lining the roads.
The trip, one way, took around three-and-a-half hours. Heads up, don't forget about the change to mountain time that takes place. I learned that one the hard way.
What To See And Do Between Amarillo, TX and Roswell, NM
Check out these photos of all the sights between Amarillo, Texas and Roswell, New Mexico.
Visit These 16 Texas Cities And Towns At Least Once As A Texan
It's a fact that Texas is a huge state and because of its size, there are also a lot of things to see, visit and experience in The Lone Star State. Both Texas visitors and Texans alike should visit our awesome cities and attractions. By no means are these all the activities in these wonderful cities. They're just a few examples of things to do.
Top 15 Under the Radar Cities in Texas
Texas is booming, and as more people move here, they'll be looking at areas like Austin or Houston to settle down. There are plenty of others places they ought to consider, though.
Using data from the U.S. Census Bureau, along with data about home sales and public school ratings,
Orchard
recently ranked and graded the Top 15 Under the Radar Cities in Texas.
These are unexpectedly good places to make a life for yourself and your family in the Lone Star State. Did your hometown make the list?