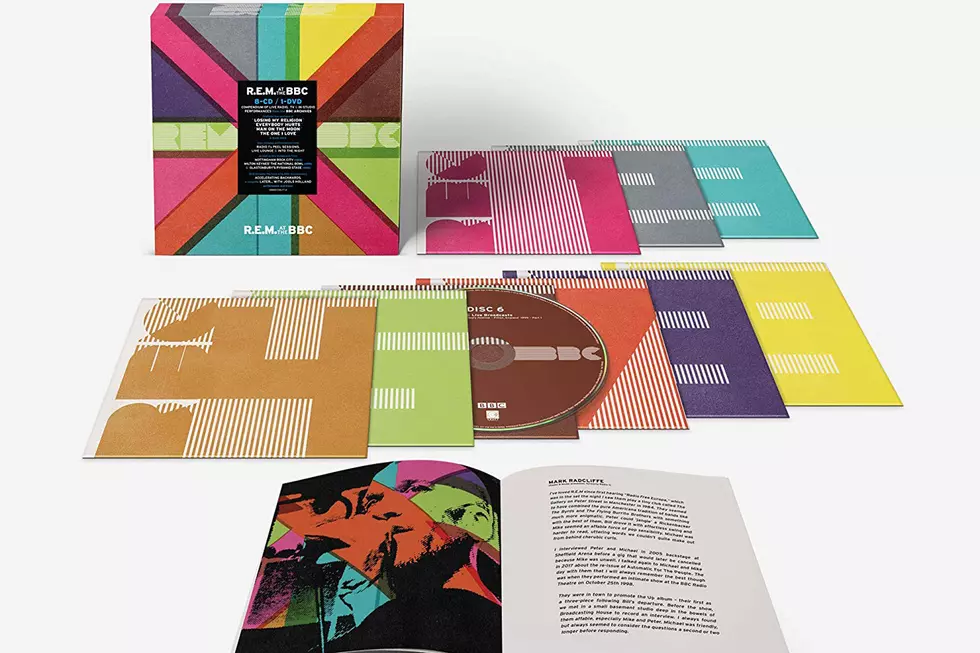 R.E.M. to Release 'At the BBC' Box Set
UMC
Sessions recorded by R.E.M. for the BBC between 1984 and 2008 have been compiled for a new box set. The eight-CD, one-DVD R.E.M. at the BBC will arrive on Oct. 18.
"R.E.M. grew up with the BBC," reads a press release. "This historic relationship is lovingly celebrated across an incredible collection that beautifully illustrates the career trajectory of one of modern music's greatest bands. The collection comprises a treasure trove of rare and unreleased live and studio recordings culled from the BBC and band archives. This is a must-have collection for R.E.M. fans and an authoritative introduction for newcomers."
The set contains the audio from four concerts: a 1984 show from Nottingham's Rock City, a date on 1995's ill-fated Monster tour from Milton Keynes, their 1999 headlining set at the Glastonbury Festival and an invitation-only 2004 date at London's St. James Church. The other CDs include a 1998 John Peel session, appearances on Drivetime and Mark and Lard's show from 2003 and a 2008 set the band did for Radio 1's Live Lounge.
"Their Glastonbury performance in 1999 was a dazzling moment," BBC DJ Jo Whitley added. "The band storming through an all-killer, no-filler setlist. As a headline performance, it was a triumph and, for me, it's up there as one of the Glastonbury greats."
Included in the DVD are the complete 1998 appearance on Later ... With Jools Holland -- one of the few times the show devoted an entire episode to one act -- as well as various appearances on Top of the Pops and the Accelerating Backwards documentary. The 60-minute film from 2008 details R.E.M.'s history with the BBC and features interviews with original members Michael Stipe, Peter Buck and Mike Mills that were filmed at the South by Southwest Music Festival in August. It has been broadcast only in the U.K. and has never been commercially released.
You can pre-order the set at their web store. A condensed version of At the BBC will also be available on two CDs or two LPs. All pre-orders come with an instant download of "Losing My Religion" from a 1991 session on BBC 1's Into the Night, and more tracks will be available for each week prior to the official release.