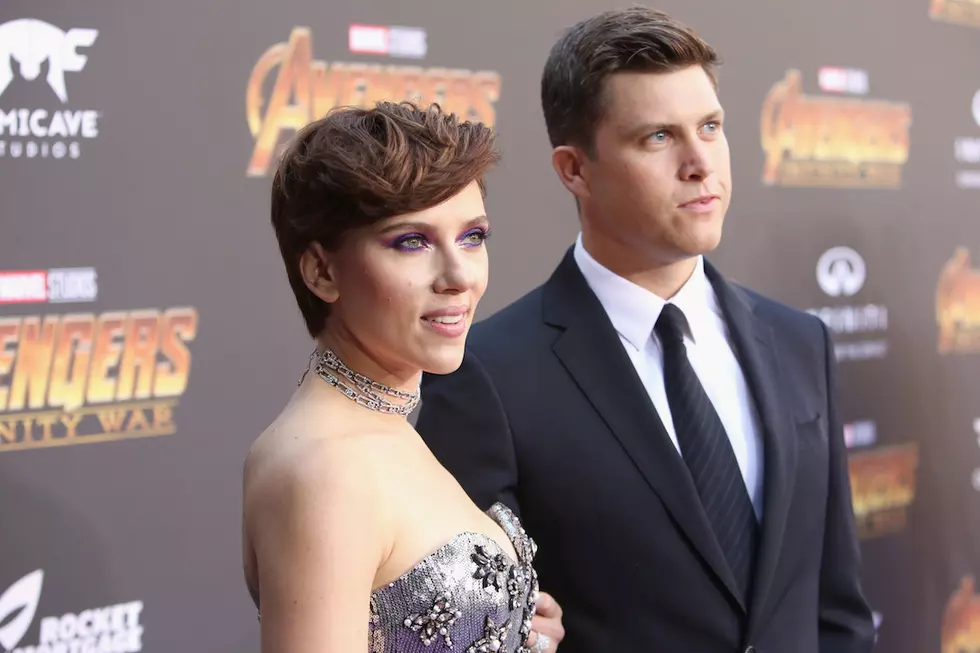 Scarlett Johansson and Colin Jost Make Red Carpet Debut at 'Avengers: Infinity War' Premiere
Getty Images for Disney
Scarlett Johansson has kept her relationship pretty hush hush with Colin Jost after the two were rumored to be dating in May 2017, but during the Hollywood premiere for Avengers: Infinity War on Monday night (April 23), the couple didn't hold anything back while making their first appearance on the red carpet together.
Before the event, the actress stopped by Ellen to chat about the film and her Saturday Night Live beau. Ellen being Ellen asked the 33-year-old who she prefers on "Weekend Update": Jost or Michael Che.
"I guess I'm a Colin fan, I'd have to say," she says with a laugh.
Ellen being Ellen then shares a throwback photo of Jost with writer John Mulaney that reveals a different look for the clean cut 35-year-old: shaggy hair and a beard.  "I thought this was a disguise but that's really what he looked like. Had you seen that?"
Johansson stares at the photo, eyes wide, before replying. "I mean I can't unsee it now. Oh my god, it is. Wow." she exclaims.
"Have I just broke y'all up? Did I do something wrong?" DeGeneres asks.
"I can't say that that's an image I'll ever forget," Johansson admits.
The couple made their first public appearance in November at the American Museum of Natural History Gala in New York City, though they skipped the red carpet that time around.
'Avenger's Infinity War': See Photos from the Premiere