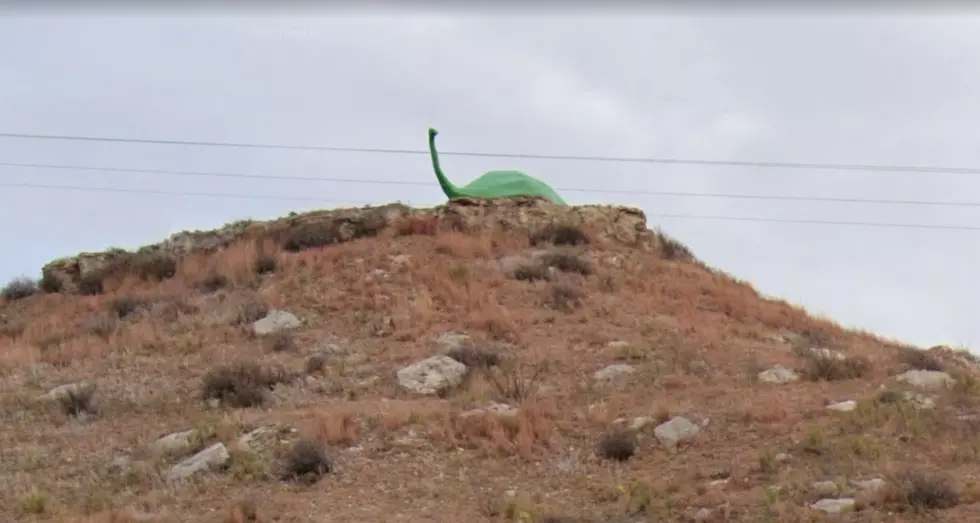 The Incredible Story That Inspired The Iconic Canadian, TX Dinosaur
Google
Not too long ago I wrote about the dinosaur that sits way up on a hill overlooking a certain stretch of highway in the Texas panhandle. That dinosaur keeps an eye on travelers who are making their way into Canadian, TX.
It wasn't until recently that I discovered the reason why that big green dinosaur is there.
The Dinosaur Has A Name, And It's Beautiful
The last time we talked about the Canadian, TX dino on 83 most of the conversation was about the dinosaur's creator. Gene Cockrell poured a lot of love and labor into building and maintaining his dinosaur.
The dinosaur was named Aud, after Gene's wife Audrey.
That was where we left it. We didn't do a lot of digging into the obvious question.
Why a dinosaur in the first place?
How A Life Or Death Situation Gave Birth To Canadian's Dinosaur
According to a social media post from Gene's daughter, the inspiration came from the time that Gene spent aboard a merchant marine ship. The ship was the USS Mobil, and they were hauling gasoline.
Supposedly, Hitler's subs were blowing these gasoline hauling ships out of the water left and right. It was a bad time to be hauling gas in the North Sea.
Gene was down in the bottom of the boat, and out of a porthole he could look and see the flag ship, USS Sinclair, with the green dinosaur painted on it.
The story goes that Gene would look out and see it, and swore he would pay tribute to the thing that gave him hope while making those trips.
At least, that's how the story goes according to the post that was made.
A green dinosaur keeping watch. Sound familiar? It's been said that Gene placed Aud up on the hill so that kids could look up and see that they were almost home.
25 Landmarks of Amarillo and the Texas Panhandle
Look: 25 Must See Landmarks On Route 66 From Tulsa To Glenrio
Route 66 is an iconic part of our culture. Here are 25 must see landmarks to check out from Tulsa, to Glrenrio.