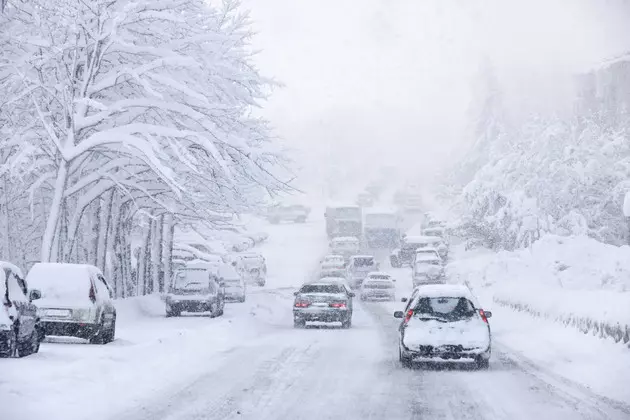 Delays and Closures Due To Snow
rina-Igumnova
Because of snow and ice, there will be highway and business closures around Amarillo today, December 28th, 2015.
Although Amarillo was prepared for a much bigger snowstorm than what we got this weekend, the roads are still icy and dangerous in some areas.
Be aware of these closures. Please be safe if you do have to get out of the house!
287 south from Amarillo to Childress : closed until further notice.
ABC Learning Center 1,2 and 3 : Closed Monday
Acute & Chronic Pain and Spine Center : Closed Monday
ADC Endoscopy Specialist : Closed Monday
All Buttercup House locations in Borger : Closed Monday
All United Supermarkets, Market Street, Amigos and United Express : Delayed, Open at 9am
Allergy ARTS Clinic : closed Monday
Amarillo Civic Center : Closed Sunday
Amarillo College Campus : closed for registration
Amarillo Council on Alcoholism & Drug Abuse : Closed Monday
Amarillo Diagnostic Clinic : Closed Monday
Amarillo Heart Group : Closed Monday
Amarillo Medical Specialists : Closed Monday
Amarillo Montessori Day School in Highland Park : Closed Monday
Amarillo Oncology : Closed Monday
Amarillo Pain & Accident Chiropractic Clinic : Closed Monday
Amarillo Pain Associates : Closed Monday
Amarillo Public Library : Closed Sunday
Amarillo Public Library : Closed Monday
Amarillo Senior Citizens Assoc : Closed Monday
Amarillo Urology Associates : Closed Monday
Amarillo VA Clinics : Closed Sunday
Amarillo Zoo : Closed Sunday
Amy Upton : Closed Monday
AUA Surgical Center : Closed Monday
Bridge Children's Advocacy Center : Closed Monday
Bryan Collins III, DDS : Closed Monday
Busy Bees Childcare & Pre-school : Closed Monday
Butterflies & Bullfrogs : Closed Monday
Cal Farley's Community Engagement Center : Closed Monday
Cal Farley's organizational headquarters : Closed Monday
Canyon Chiropractic : Closed Monday
Cardiology Center of Amarillo : Closed Monday
Care Today Urgent-Health : Closed Monday
CareNet Pregnancy Centers : Closed Monday
Children's Circle of Friends : Closed Monday
Christ Lutheran Church Child Development Center : Closed Monday
City of Amarillo Offices : Closed Monday
City of Canyon : Closed Monday
Clovis City Offices : Closed Monday
Clovis Health Office : Closed Monday
Create A Beat : Closed Monday
Creek Stone Integrated Care : Closed Monday
Dental Group of Amarillo : Closed Monday
DPS Offices: Deaf Smith, Parmer, Castro, & Oldham Counties : Closed Monday
DPS Offices: Potter, Randall, Childress, Hall, Donley, Armstrong, Wheeler, : Delayed, Open at 1pm
DPS Offices: Swisher, Briscoe, Gray, & Carson Counties : Delayed, Open at 1pm
DPS: I-40 Eastbound is closed from the I-40/US 287 Interchange to the OK st : I-40 closed east and west of Amarillo
Family Support Services : Closed Monday
First Baptist Child Development Center : Closed Monday
First United Banking Center : Delayed, Open at 10am
Footprints day schoo : Closed Monday
Friendship Ranch Daycare Canyon : Closed Monday
Grace Learning Center : Closed Monday
Gray County offices : Open at Noon Monday
Hagy Learning Center : Closed Monday
Hands On Achievement : Closed Monday
Harrington Breast Center : Closed Monday
Harrington Cancer Center : Closed Monday
Haven Health Clinics : Closed Monday
Hereford Day Care : Closed Monday
Hillside Family Health Clinic : Closed Monday
Hilltop Senior Citizen Association : Closed Monday
Hutchinson County Offices : Closed Monday
IH-27 closed : from MM53, just north of Plainview to MM103, just south of Canyon
Imagination Station day care : Closed Monday
Learning Depot : Closed Monday
Local Liberty Tax Offices : Closed Monday
Meadowbrook Counseling Center : Closed Monday
Meganne Walsh MD : Closed Monday
Monday Amarillo CRASE class : Closed Sunday
New Beginnings Preschool : Closed Monday
Night & Day Care & Play : Closed Monday
Northwest J O Wyatt Clinic : Closed Monday
Northwest Texas Physician Group at Ridgeview : Closed Monday
Northwest Urgent Care : Closed Monday
Northwest Women's and Children's : Closed Monday
Opportunities Senior Center in Borger : Closed Monday
Opportunity School campuses : Closed Monday
Outreach Health Services : Closed Monday
Pampa Meals on Wheels : Pampa Meals on Wheels
Pampa Meals on Wheels : Closed Monday
Panhandle Cancer Care Center : Closed Monday
Panhandle Obstetrics & Gynecology : Closed Monday
Parker Sports Medicine : Closed Monday
Portales Health Office : Closed Monday
Potter Co. Administrative Offices : Closed Monday
Rapid Tax Class by Liberty Tax : Closed Monday
SH 152 west of the City of Wheeler : closed
Smileworkshop : Closed Monday
Specialized Therapy Services : Closed Monday
St. Joseph's Daycare : Closed Monday
Starbucks : Closed Sunday
Storyland Preschool & Child Care Center : Closed Monday
Sunshine Childcare : Closed Monday
Sunshine Childcare Canyon : Closed Monday
Sunshine Valley Childcare Amarillo : Closed Monday
Texas Breasts Specialists : Closed Monday
Texas Oncology : Closed Monday
Texas Pain & Spine Institute : Closed Monday
Texas Tech University Health Sciences Center campus in Amarillo, including : Closed Monday
The Amarillo Better Business Bureau : Closed Monday
The Cross Medical Clinic : Closed Monday
Toot 'n Totum Amarillo : Some locations at major intersections remain open - full list on Facebook
Trinity Lutheran Childcare : Closed Monday
Tucumcari Health Office : Closed Monday
Unique Individuals : Closed Monday
United Stores : Close at 5 p.m. on Sunday
US 287 Closed Between Childress and Amarillo : Closed Monday
Veteran Resource Center : Closed Monday
Wesley Community Center : Closed Monday
Western Chiropractic clinic : Closed Monday
Women's Healthcare Associates : Closed Monday