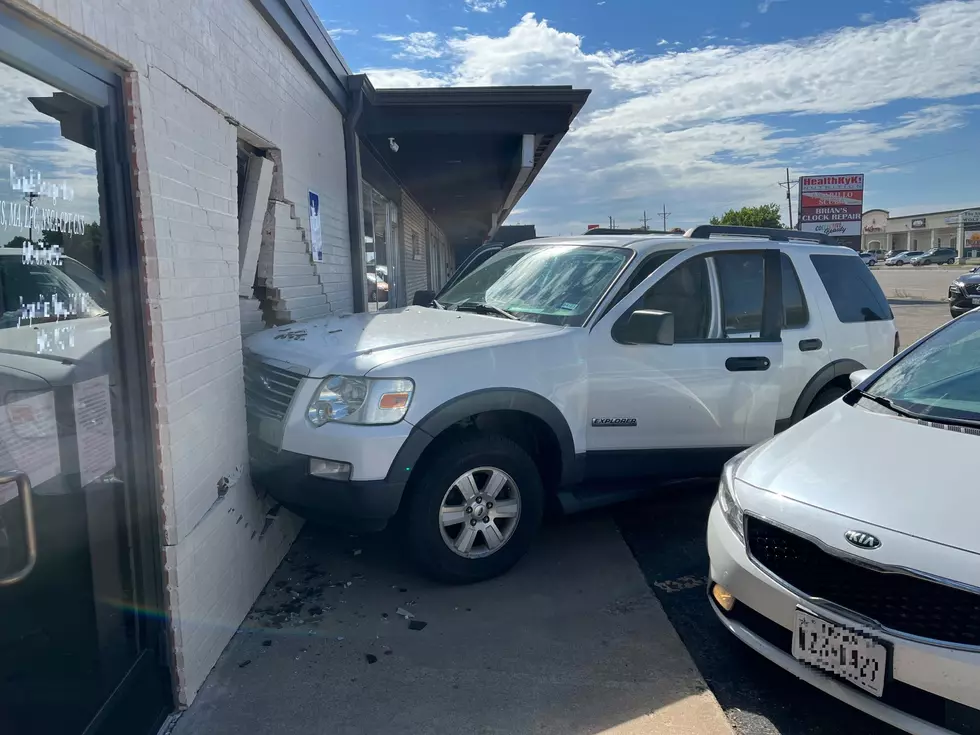 Enormous Oopsie! Car Slams Into Office On Wolflin Ave
Lori Crofford/TSM Amarillo
Sometimes things happen in life.  All I have to say is thank goodness for insurance.
I was taking my son to his therapy appointment yesterday.  It was a normal afternoon, this was something we did a thousand times.   We got there early and we were waiting in the car, something we've done a thousand times.
We were parked next to an SUV and they were getting ready to leave.  I looked over at my son and said, "are you ready." He was about to open the car door.
Then it happened.  I heard an engine rev and BOOM!   I saw everything happen, but my brain just didn't compute.  It was like it was in slow motion.   The car next to me had slammed into the wall of the therapist's office.
I jumped out of my car and screamed at the man to see if he was OK.  It took a couple of screams, but he finally registered someone was yelling at him. I asked the young woman in the car if she was OK.  I then ran up to the door of our therapist to check on her, the door obviously was stuck, but we got it open.   Thank goodness she and her therapy dog were unharmed.
I called 911.
Our emergency services and our first responders are amazing.   They were on site less than a minute after being on the phone with 911.  I was still answering questions when fire, police, and EMS, were pulling up.
Luckily, no one was hurt.  If it had been 3 minutes later, my child would have been in that office and his therapist would have been knocked across the room because that is exactly where the car hit.
I'm not exactly sure what happened with the man in the car.  It may have been a mistake of putting the car in the wrong gear.  I overheard that his shoe slipped and got caught.  Whatever it was, I'm glad no one was hurt.
Unfortunately, the building was hurt and since it was a load-bearing wall, I don't think they will be able to use that office for a while until it is repaired.
I truly believe that there is divine intervention all around us, and the timing of the whole situation kept everyone safe.
Thank goodness for insurance, thank goodness for our first responders, and thank goodness for angels among us.
Amarillo's Cursed Buildings – Historic Route 66, 2813 SW 6th
There are some places around town that just can't seem to stay in business for very long. This is one of them.
The address of the cursed building is 2813 SW 6th Street. This building was originally built in 1930. This place was originally a service station. I'm sure in the heydays of Rt. 66, this place was the place to stop to get your car serviced. However, in the last 15 years, this building has seen many different faces.
LOOK: The Enigmatic Art Oddity of Cookie Time
This quirky and whimsical place is tucked away behind a fence off US-287N and Cherry Street. While it may seem like a head-scratcher at first, you'll soon find yourself drawn to the unique and memorable displays at Cookie Time.
25 Landmarks of Amarillo and the Texas Panhandle