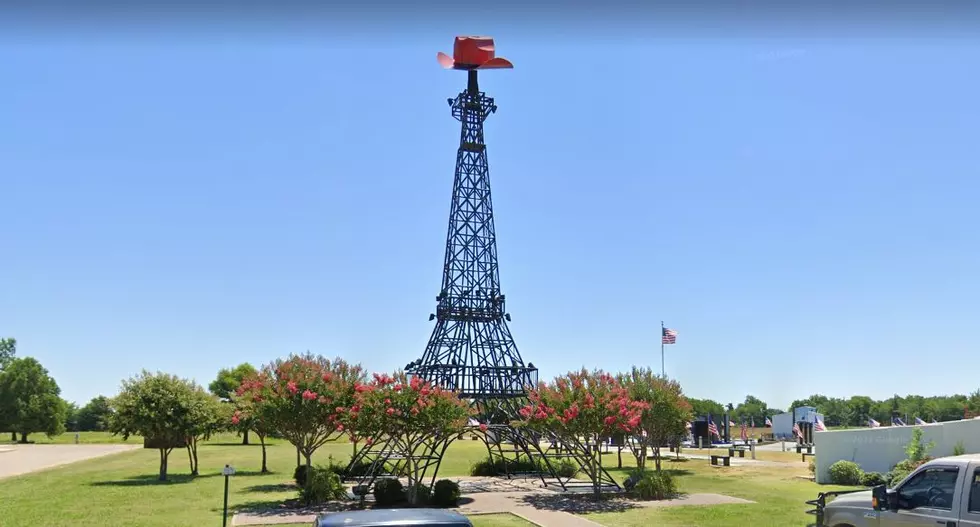 Odd? Are These The 7 Strangest Places To Visit In Texas?
Google Maps
Texas has been called a bunch of things. Strange? Um, not sure about that one. But, every state does have its share of  STRANGE and I guess TEXAS is not an exemption to that.  According to this video, these are 7 of the Strangest Places In Texas. Have you visited any of these places on the list? Here is the list in no particular order, they are all strange!
#1 • EIFEL TOWER WITH COWBOY HAT ON TOP IN PARIS, TEXAS!
Well, it is called Partis, Texas so is it really that strange? Oh, it's the COWBOY hat that makes it strange, well, I guess. Of course, the Eifel Tower is located in Paris, France, and well the Eifel tower with the Cowboy Hat is located in Paris Texas. Do we really need to discuss more of this? LOL. Makes sense to me.
#2 • FORBIDDEN GARDENS IN KATY, TEXAS
The Forbidden Gardens opened up in 1996 and closed in 2011. It was a small-scale replica of the Forbidden City of Beijing China and The Temple of Heaven, The Calming of the Heart Lodge, and the canal city of Suzhou. And, even though it is no longer around, the land it sat on is still apparent. LINK UP TO THE WEBSITE
#3 • FUTURO HOUSE FLYING SAUCER IN ROYCE CITY, TEXAS 
Apparently, here in Texas, you don't have to look up to see a flying saucer, you can just look on the side of the road. The Futuro House was conceived by Matti Suuronen in 1968 as a "portable" ski chalet. It is an iconic piece of architecture that now sits in Royce City, Texas.  LINK UP TO THE FUTURO WEBSITE
#4 • LEANING TOWER OF TEXAS IN BRITTEN, TEXAS 
The Leaning Tower of Britten is a leaning water tower on historic U.S. Route 66 in Groom, Texas. The tower was originally a functioning water tower that was going to be destroyed until Ralph Britten purchased it and moved it to serve as an advertisement for his truck stop which is no longer there. It leans at a 10-degree angle and is a popular tourist attraction now on the side of I-40!
#5 • LUECKE FARM SIGNATURE IN LAND
This strange Texas place can really only be seen on Google Maps or on an airplane. It's the word 'LUECKE' and it's written into the farmland. Jimmy Luecke came up with the idea to put his name on his land, and well he did. It's visible from many miles high!
#6 • THE STEELE HOUSE BY ROBERT BRUNO IN RANSOM CANYON, TEXAS
The Steele House by Robert Bruno overlooks Ransom Canyon. It was sculpted by Robert who handcrafted it from 1973 until his death in 2008. It is 20 miles outside of Lubbock, Texas!
#7 • CADILLAC RANCH IN AMARILLO, TEXAS
The World Famous CADILLAC RANCH in Amarillo, Texas of course had to make the list. Strange? Maybe, but very cool and such a Texas thing!  It consists of ten Cadillacs ranging from years 1949–1963 which are buried nose-first in the ground. It was installed in 1974, the cars were either older running, used, or junk cars.
CHECK OUT THIS AWESOME VIDEO FOR THE FULL LIST
The JUNKIEST Place in Texas!