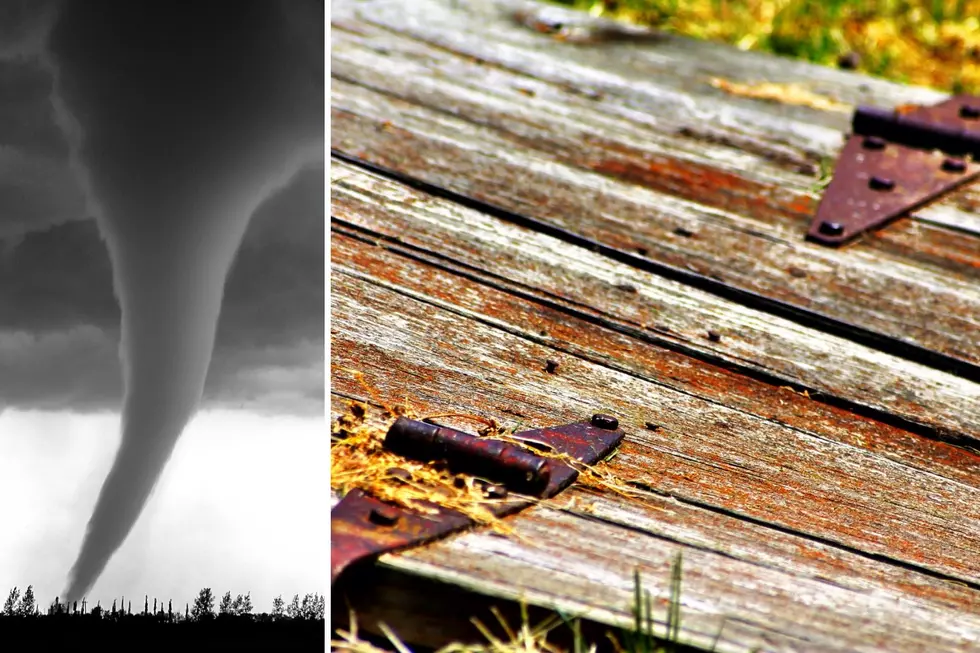 The Fascinating Storm Cellars of Yesteryears
TSM Amarillo
We live in an area where tornadoes are highly possible, we are in tornado alley as they call it.  Having a place to go when a tornado is present is always a plus, back in the day they had some interesting storm cellars.
Having a storm shelter was an important thing to have here on the plains of Texas.  It meant that your family was safe when a tornado hit.
I grew up in a house that had a basement it was 4 cinder block walls a closet and ugly carpet, but it was safe and indoors.  However, the old farmhouses had very interesting and basic storm shelters.
Most of these storm shelters were just holes in the ground that were supported by wooden beams and wood doors.  They were useful when tornadoes would touch the ground, but most of these storm cellars served as storage.
When I see this picture, I think of the scene in the Wizard of Oz, where Dorothy runs home after running away and the tornado is coming and she starts stomping on the cellar door and no one hears her so she runs inside the house, and then eventually ends up in Oz.
If you have ever seen a storm cellar at a farm home at your grandparent's or great-grandparents, you know what I mean.
The storm cellar had shelves all around it and on those shelves were jars and jars of canned food.  Not the canned food you buy at the store, but food that was canned in mason jars and stored on those shelves in the nice cool dark cellar under the ground.
Many people back in the day before electricity, or even ice boxes stored their meat in the storm cellar.
This was back during the time when you grew your own food and you canned your food for a later date.
I know my grandmother was an avid canner.  She had quite a large garden where she grew her own vegetables and then she harvested those vegetables and then canned them.  She had multiple fruit trees and she took the fruit and canned some, but then turned the rest into jams and jellies.  Although they didn't have a storm cellar, she had cabinets lined with canned vegetables.  But if they had of had a cellar, that thing would have been packed with canned food.
Definitely not the storm cellars of our days.  Most basements these days are extra rooms, man caves, or media/game rooms.
Downtown Amarillo Over The Years
Downtown Amarillo has seen an incredible metamorphosis. Take a look at the photos below to see just how much it's changed--you won't believe the difference.
This Beautiful Plemons-Eakle Home is a Look Back in Time
Built in 1926, this is a true historic gem of a home!
Located at 1618 S. Van Buren, the home is listed with
Burgundi Thurman of ReMax Town & Country
. One can only hope that someone who appreciates owning a piece of history will be the lucky one to call this place their new home.
Ranchotel: The Forgotten Landmark of Old Route 66 in Amarillo, Texas
The Ranchotel, located at 2501 W. 6th St., is a product of Route 66's heyday.
When Americans first began long-distance automotive travel, they typically stayed in hotels or camped beside the road. In response, clever entrepreneurs began to build what were called
tourist courts
. The Ranchotel is one of these.
It was built in 1940 and until recently, it was considered one of the best preserved examples of Route 66's tourist facilities. It was placed in the National Register of Historic Places in 1995 and was well maintained until 2020.
Even now, in spite of the building's fading beauty, there is still the nostalgic air held by many a historic landmark.