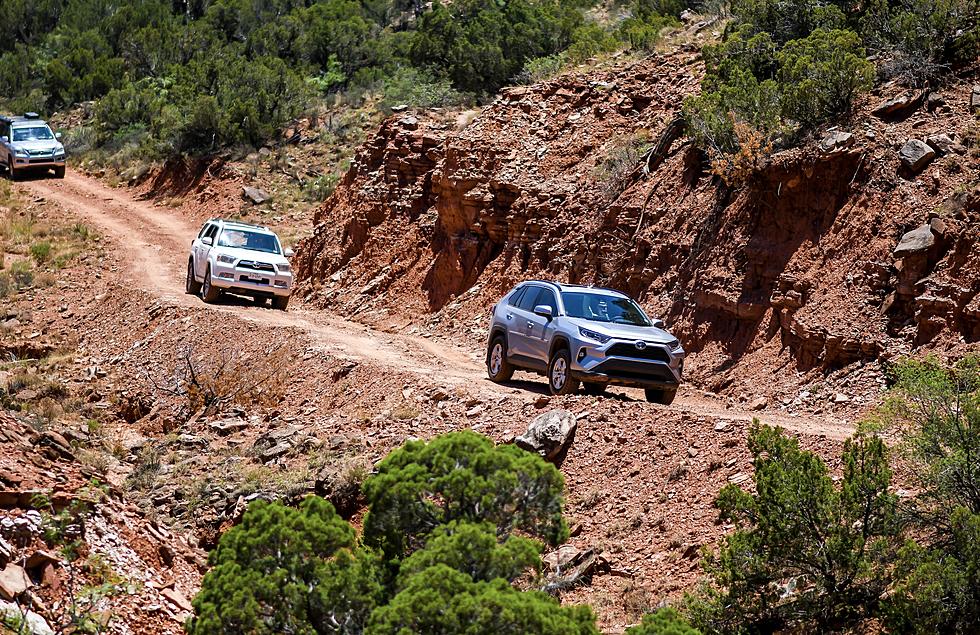 Did You Know About This Outdoor Adventure South Of Claude?
MERUS Adventure
A lot of us have spent the past several months itching for the opportunity to get outside. The spring and summer months are upon us, and those of us craving time outdoors are about to have our fill. While we all haunt the usual spots, there are some I'm just now learning about.
For instance, don't forget about the MERUS Adventure Park this year.
There's A Lot To See And Do Around Palo Duro Canyon
It's easy to believe that your experience with Palo Duro Canyon begins and ends with the State Park. You'd be forgiven for it. It's what a lot of people think of when it comes to Palo Duro Canyon.
There is, however, so much more.
The Palo Duro Canyon is second in the nation only to the Grand Canyon. It's massive. While I love spending time at the State Park, sometimes you want to explore something new.
MERUS Adventure Park, Palo Duro Canyon
Southwest of Claude is a place that gives you access to a little different view of the canyon than the one you are used to at the State Park. The MERUS Adventure Park is roughly 6,500 acres of land along and in the canyon.
Their website offers up a platter of everything an outdoor adventure lover is looking for.
There's a lot to explore. Plenty of camping areas for whatever your camping style is; from tent and overland to full blown glamping.
They also signed a deal recently with Midland Radio. This deal is going add an extra layer of safety for guests who want to get out and explore. Midland Radio will be providing the park with GMRS radios. Midland Radio will hosting a variety of events, and there will be discounts for MERUS members on Midland Radio products.
If you're living the Jeep life, they've got you covered. If you want to hike and explore caves, they've got you covered.
MERUS Adventure Park Is Officially On My "Must See" List For This Year
I keep a running list of all the sights and places that people tell me I need to see. It's carefully curated so that when I leave town, I'm sure to make some memories. While most suggestions I've been given haven't been a total bust, I'm still careful about what I spend my gas money on.
MERUS Adventure Park seems like it would be well worth the trip, and I'll probably spend at least two full days out there exploring.
There's a lot to take in here in the Texas panhandle. Get out an explore a bit this year. Whether it's at a State Park, National Recreation Area, or an adventure park that just so happens to exist southwest of Claude.
Take A Quick Look Inside One Of Palo Duro Canyon's Caves
Check Out These Photos Of The Hidden Cave In Palo Duro Canyon.
LOOK: Vintage Postcards of Palo Duro Canyon
These vintage postcards of Palo Duro Canyon are a true look into the past.
You may recognize quite a few of the iconic landmarks found in the canyon, but there's still others that you just might have not seen yet! Key word...."yet."
Take a trip into the past with these spectacular vintage postcards, you'll be inspired to take a hike!
This Huge Cabin In Palo Duro Canyon Is Top-Notch Glamping
This cabin is (to us) the definition of "glamorous camping".
This three bedroom rental is tucked away in the Palo Duro Canyon. It's a cabin with serious room, meaning it can fit up to eight guests--a girls trip, family vacation, or any bigger group.
The cabin is available for booking through
glampinghub.com
and the description along with the provided photos is enough to catch the eye of anyone ready to get out of town and away from it all.....without having to go very far.
It's a beautiful place with woodwork throughout, full amenities, and all the mandatory electornics (and WiFi!). If a group of people were to split the cost of their stay between each other, it is without a doubt one of the most budget-friendly options for vacations.
The four day minimum stay required to make a booking is the only drawback to this diamond in the rough of a rental property--but it's nothing a little planning ahead and vacation time can't remedy.