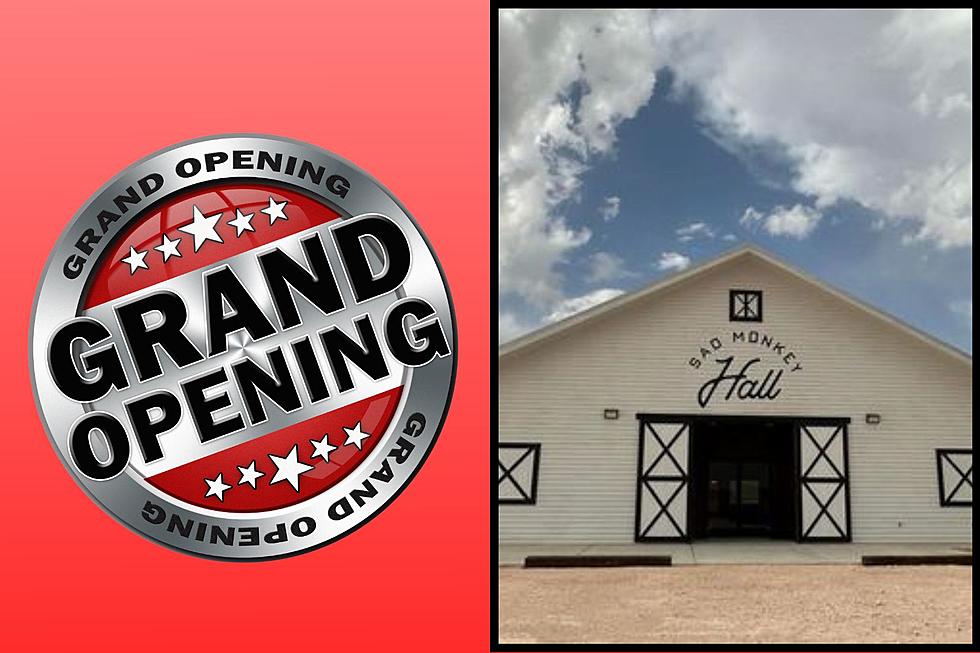 Sad Monkey Hall Grand Opening: A Breathtaking Venue Nestled Near Palo Duro Canyon
Photo Courtesy Kara Wray/Canva
Back in November 2022 we shared with you about a really cool place that opened up a mile away from Palo Duro Canyon.  It was Sad Monkey Mercantile.
This is a place for people to stop to grab a drink, coffee, beer, or items needed for their camping in the canyon.  It's also great for those living in the area, they can stop in and pick up milk or bread without having to drive into town.   It's the perfect stop for those traveling to Palo Duro Canyon.   Not only that, it has beautiful views and a great outside deck just to chill and enjoy the beauty.
As that beauty goes, it is such a great location with such pretty views, it would go without saying this would also be a perfect area for a venue for parties and even weddings.  Guess what?  That's what they did.
The Sad Monkey Hall
The Sad Monkey Hall is a rentable venue. This venue will be available for all sorts of events including weddings, parties, anniversaries, reunions, and meetings, it's the perfect gathering place for multiple occasions.
Sad Monkey Hall is hosting their Grand Opening on Saturday, June 17th.
The Grand Opening will be held from 12 pm - 8 pm.  Here are some of the fun activities you can enjoy.
12 pm - Ribbon Cutting with the Canyon Chamber of Commerce
Live Music 12 - 8 pm

Tom Beuchi 12-2
Chill Son 3-5
Travis Bishop 6-8
Food and Drink

575 Pizzeria
Soda Jerks
Sad Monkey Food Trailer Samples
Beer Tent Sampling with Wild Acre Brewing and Bishop Cider
Vendors

The Bracelet Bar
Buck Wild Media Photo Booth
Auntie T's Sweet Treats
Plus more activities and fun!
Make plans to drive the route to PDC and check out this beautiful new venue.
Sad Monkey Mercantile: New Store Near Palo Duro Canyon
This brand-new store is perfectly situated near the entrance of Palo Duro Canyon.
It offers a variety of groceries, drinks, gifts, and items perfect for the PDC hiker and campers.
LOOK: Vintage Postcards of Palo Duro Canyon
These vintage postcards of Palo Duro Canyon are a true look into the past.
You may recognize quite a few of the iconic landmarks found in the canyon, but there's still others that you just might have not seen yet! Key word...."yet."
Take a trip into the past with these spectacular vintage postcards, you'll be inspired to take a hike!
This Huge Cabin In Palo Duro Canyon Is Top-Notch Glamping
This cabin is (to us) the definition of "glamorous camping".
This three bedroom rental is tucked away in the Palo Duro Canyon. It's a cabin with serious room, meaning it can fit up to eight guests--a girls trip, family vacation, or any bigger group.
The cabin is available for booking through
glampinghub.com
and the description along with the provided photos is enough to catch the eye of anyone ready to get out of town and away from it all.....without having to go very far.
It's a beautiful place with woodwork throughout, full amenities, and all the mandatory electornics (and WiFi!). If a group of people were to split the cost of their stay between each other, it is without a doubt one of the most budget-friendly options for vacations.
The four day minimum stay required to make a booking is the only drawback to this diamond in the rough of a rental property--but it's nothing a little planning ahead and vacation time can't remedy.