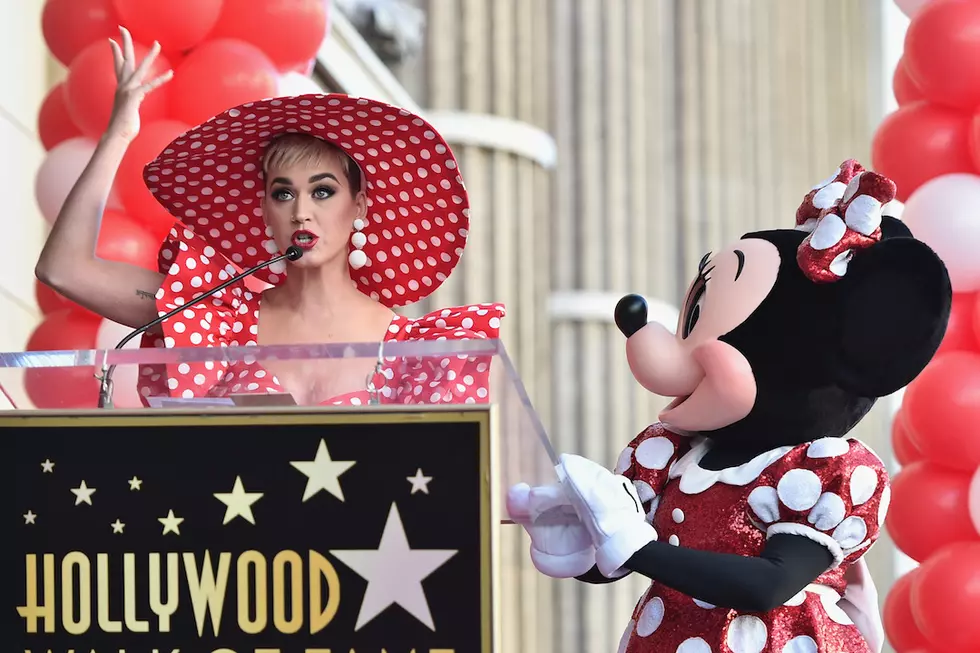 Katy Perry Honors Minnie Mouse at Hollywood Star Presentation
Alberto E. Rodriguez/Getty Images
Earlier this month, it was announced that Katy Perry would be presenting Minnie Mouse with her Hollywood star on the Walk of Fame, and on Monday (January 22), it all happened in glorious Katy Perry fashion.
It doesn't matter that Minnie Mouse is a fictional character — the pop star praised her for all that she is, donned in red and white polka dots, hat and all.
"Who wore it best?" Katy began her speech, before posting a photo on Instagram, with the caption: "Don't ask who wore it best cause it will forever be my dear friend Minerva Mouse. So delighted to help my gal celebrate her well deserved star on the walk of fame after 90 years of making the world smile!"
The singer then took a little jab at sexism, stating it's only been "a brief 40 years" since Minnie's male counterpart, Mickey Mouse received his Hollywood star. The self-proclaimed Minnie devotee took the rest of her time at the podium celebrating the polka dot clad mouse's legacy on the world, and herself in particular.
"I was maybe two or three years old and into my peripheral vision came Minnie and Mickey Mouse-printed diapers," Perry recalled. "That was my very first memory ever. And of course, it turned into a lifelong devotion."
Minnie's star marks the 2627th awarded on the illustrious Hollywood Walk of Fame. Watch the full live stream below (Katy shows up around the 33:40 mark).