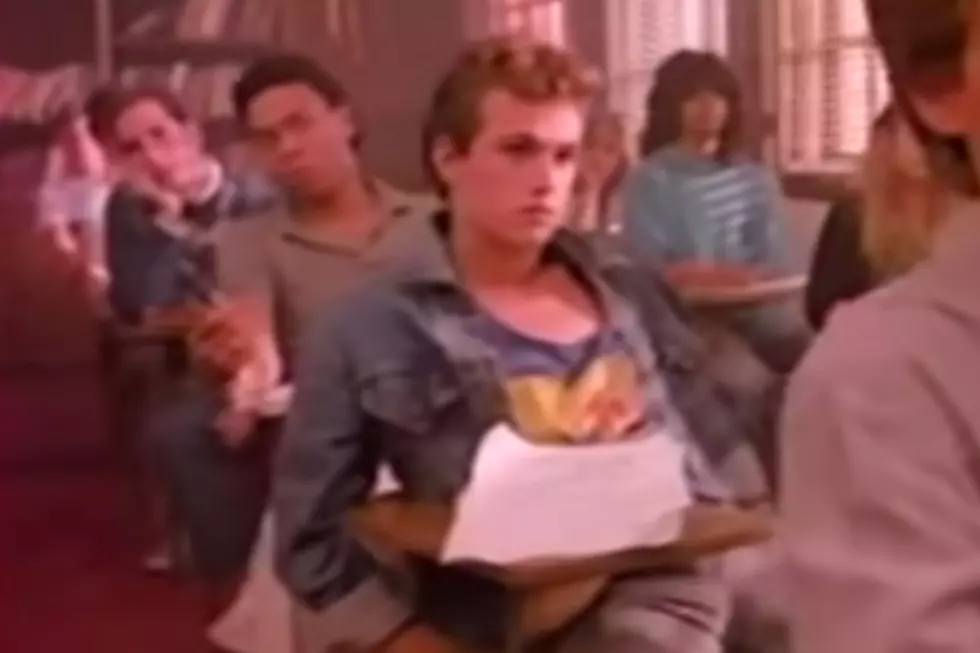 Luke Perry Was in a Twisted Sister Video That MTV Banned
Atlantic
Actor Luke Perry, who died earlier today after suffering a massive stroke last week, rose to fame as a member of the cast of Beverly Hills 90210. But one of his first acting jobs was a few years earlier, as an extra in the video for the Twisted Sister's single "Be Chrool to Your Scuel," which MTV refused to play in 1985.
Dee Snider had big plans for the Come Out and Play track. In addition to having Alice Cooper share vocals, it also featured instrumental work by Clarence Clemons and Snider's fellow Long Islanders Billy Joel and Brian Setzer of the Stray Cats.
The school-themed video -- which starred comedian Bobcat Goldthwait and actress Lainie Kazan --involved a teacher (Goldthwait) who puts on some Twisted Sister in the teachers' lounge to relax after not being able to get through to his students. With the song's first note, the school is transformed into a scene from a zombie movie, with Goldthwait and another teacher morphing into Snider and Cooper, while they and the other members of Twisted Sister try to fend off being eaten by the newly undead students.
But MTV wouldn't show it. As Snider wrote in Shut Up and Give Me the Mic, the video arrived less than a year after Twisted Sister had become a target of the Parents Music Resource Center. Snider believed MTV banned the video because of the PMRC controversy, not because of the video's content, as the network claimed.
"They told us that the zombie content was 'too gross' for MTV and absolutely no amount of editing would fix it," he wrote. "What? It was no worse than Michael Jackson's 14-minute, MTV Award-winning zombie opus for 'Thriller,' but ours was unairable? Like the fans, MTV discovered they could throw concerned parents a bone with Twisted Sister that would have little effect on their viewership. Scumbags."
Speaking to Billboard in 1986, director Marty Callner called it "the most ridiculous, inane decision I've ever heard. ... Frankly, I can't believe the people I know there would do this. It's got to be coming from someone above. ... I haven't really challenged MTV about [the ban]. The song's not coming out for 30 or 40 days, so I thought they might change their minds. The video's no gorier than 'Thriller,' and it's funny besides."
Perry only got the gig because the original plan to hire actors didn't go as Snider had hoped. Callner set up an open casting call, but nobody showed up, so they hired extras and the video was filmed. But because of the amount of time spent getting the actors made up as zombies -- courtesy of horror movie legend Tom Savini, who appeared as the teacher who turns into Alice Cooper -- the first day of shooting ran late. So the actors were asked to stay in makeup overnight so they'd be ready as soon as they got on set the next morning.
"Years later, when watching the video with my kids," Snider wrote, "I would spot a then-unknown Luke Perry (normal and zombie-fied) in the classroom."
Twisted Sister Albums Ranked