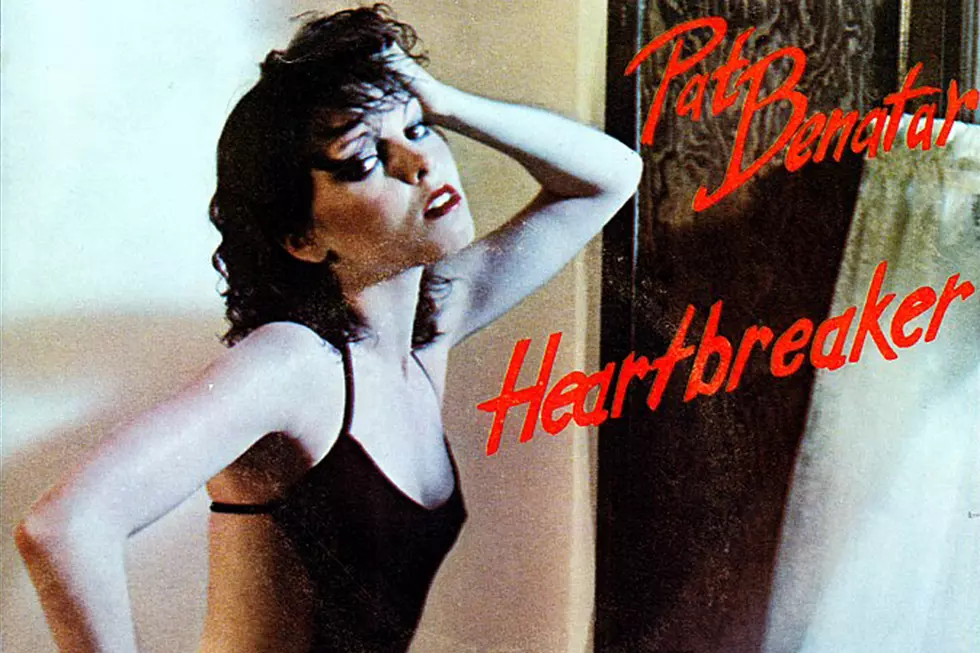 40 Years Ago: Pat Benatar Breaks Through With 'Heartbreaker'
Chrysalis
As the third single from her debut album In the Heat of the Night, "Heartbreaker" became Pat Benatar's commercial breakthrough. But when it arrived on Oct. 26, 1979, the musical landscape was in the midst of a great upheaval.
Just three months earlier, Steve Dahl, a Chicago DJ proclaimed the "death of disco," with the Chicago White Sox going so far as to hold a Disco Demolition Night at Comiskey Park, an event that turned into a full-blown riot.
The rock-focused Benatar was decidedly not disco, and, with the already-established Heart and the nascent Blondie, she became one of the few female voices heard on U.S. rock radio at the time. They helped move the needle forward. By the beginning of 1980, the Pretenders would release their debut, with former Runaway Joan Jett establishing herself as a solo artist a year later.
As Benatar explained in her 2011 memoir Between a Heart and a Rock Place, her label, Chrysalis Records, helped assemble a group of New York's top session players and sent them into the studio with Ron Dante, the voice behind the Archies' mega-hit "Sugar Sugar" and the producer of several successful albums for Barry Manilow.
"With this pedigree, everyone thought we were off to a great start," Benatar noted. "The label had given me a song called 'Heartbreaker' that we were pitched through the Chrysalis A&R department."
The track was originally penned by British songwriters Geoff Gill and Clint Wade. Benatar, at the behest of her label, ended up rewriting some of the lyrics as not only were they written from a male perspective, she felt "the original lyrics had too many British colloquialisms that an American audience wouldn't understand."
Despite the attention given to the track in the studio, it was a swing and a miss for the first incarnation of the song.
"Everything was wrong," Benatar admitted in her book. "The tracks were played technically well, but they had no soul, no passion. The music was so uninspiring that I couldn't conjure any fire in the vocals."
As the label went back to the drawing board, they decided rock might not be where she would find success and started pushing her towards a New Wave-inspired sound. To help steer the singer accordingly, they called in producer Mike Chapman, who had found prior success with the Knack's "My Sharona" and Blondie's "Heart of Glass."
Benatar and Chapman immediately hit it off. He brought the vocalist songs he felt fit the style she was looking to bring to the stage, including John Mellencamp's "I Need A Lover" and "No You Don't" by Sweet.
As for "Heartbreaker," Chapman insisted he knew just the right guy that would not only complement Benatar's powerful voice, but also help solidify the rock and roll image she was looking to pursue: Neil "Spyder" Giraldo.
Benatar is quick to cop to the immediate chemistry between she and Giraldo on a non-musical level. But equally important was the realization that, with the right music behind her, the singer could stand shoulder-to-shoulder with any rock act on the circuit.
Listen to Pat Benatar's 'Heartbreaker'
"I heard it in my head but I couldn't get anybody to play what I was hearing," Benatar recalled. "And the minute [Giraldo] walked in, he knew exactly what I was talking about. He played it exactly the way that I wanted it, and the whole thing was born from that."
Hired to produce only four songs on In the Heat of the Night, "Heartbreaker" not among them, Chapman prepared to leave the project. But before departing, he sat down with studio engineer Pete Coleman and Giraldo and suggested they continue working together on the record.
Not coincidentally, according to Benatar, "Heartbreaker" was the first song she recorded following Chapman's planned departure.
"It was a blistering recording, setting the course for the entire record," the singer confessed.
At a cost of $82,000, In the Heat of the Night was completed in just under a month. But as confident as Benatar was that she had a sure-fire hit in "Heartbreaker," her record label confounded the singer by choosing to release two other singles, "I Need a Lover" and "If You Think You Know How to Love Me," first.
In Benatar's view, this was a misstep on the label's part as she felt bands like the Clash were helping usher in a resurgence of guitar-driven music. She believed it was the perfect storm in which to launch of a hard-driving song like "Heartbreaker." "As good as we all knew 'Heartbreaker' was, it wasn't the first single, because Chrysalis, in their continuing infinite wisdom, didn't think it was a hit," Benatar revealed in her memoir. "Disco was dying, but the label didn't see it. Those guys were positive that disco loving deejays would not play the song because there was too much guitar on it."
While the singer did acquiesce that "I Need a Lover" helped lay some important groundwork for her career, it was a drop in the ocean compared to what lay in wait for her when "Heartbreaker" was officially released.
The singer and her band were 10 shows deep on a tour supporting now-forgotten rocker David Werner at the time the single dropped, at which point, she recalled audiences reacting more favorably to her performance than the headliner's. "We'd only played 10 shows with David when 'Heartbreaker' exploded, but after that we were fired from the tour," Benatar said. "The crowds turning out were there for us, and when we left the stage, they almost rioted. Finally, Werner's people said we had to get off the tour. We were causing chaos and it was hurting David's show."
The song would ascend to the No. 23 position on Billboard's Hot 100 singles chart in March 1980, and help propel In The Heat of the Night past the million-seller mark.
In an October 1980 Rolling Stone cover story, Benatar expressed her amazement at how fast things were happening.
"We went on tour as soon as the record came out, and one day, somebody came up to me and said, 'You know you're No. 28, don't you?' I said, '28 what?' '28 in Billboard.' 'Get out of here, we're not 28!' We never bought Billboard because we figured we weren't charted, and nobody told us because they figured we'd freak out."
Benatar's climb to fame wasn't without its challenges, however. While the success of "Heartbreaker" was encouraging, grueling touring, including support slots for Journey and the Doobie Brothers, left the rising star scrambling to keep up.
"We moved quickly through a process that usually takes several years: playing the big clubs ... then arenas and amphitheaters. Everything jumped so fast that we were always just trying to catch our breath."
See the Top 100 Albums of the '80s