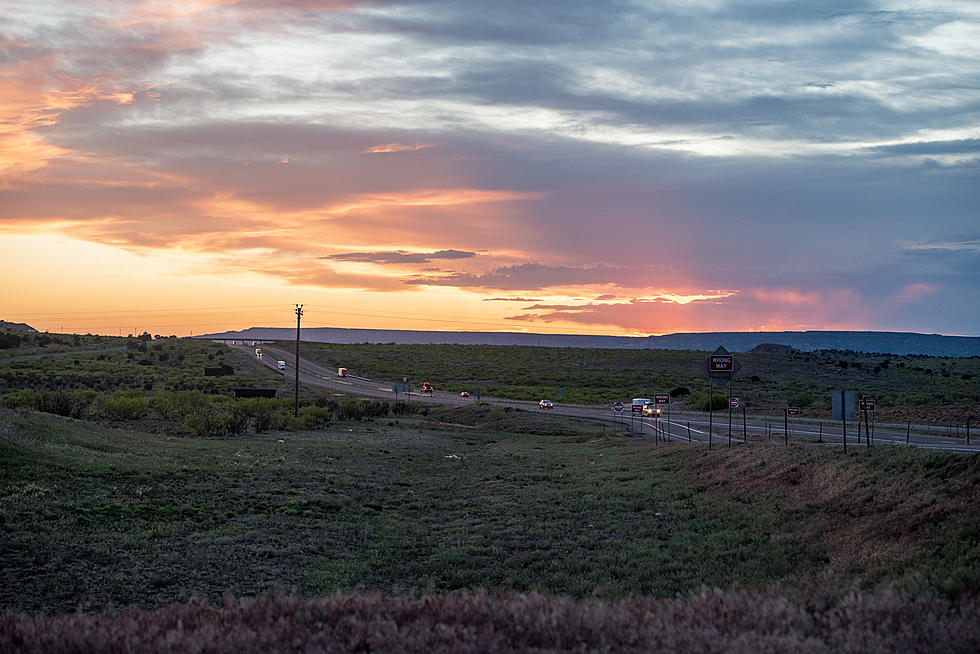 The Cities You Find On The Way To Albuquerque From Amarillo
Michael J. Rivera/TSM
Not too long ago my fellow coworker talked about the cities that you find on the way from Amarillo to OKC. There's plenty to see going down that route, but what happens if you happen to be heading westbound on I-40? Well, let's head on down the road!
Route 66 roots run deep on I-40
Just like heading east towards OKC much of I-40 sits on top of the mother road. Most of the cities on the way to Albuquerque have their business loops in place which provide those who are looking for a little bit of the past plenty of chances to take that trip.
Getting Out Of Greater Amarillo
As you make your way out west, say goodbye with a quick can of spraypaint at the Cadillac Ranch. You'll make your way past Bushland which heading north on 2381 will take you to the Floating Mesa, one of many Stanley Marsh 3 projects. moving west a quick pass of Wildorado with it's prominent grain elevator pretty much says you're on the way out.
Vega
Vega is your first real opportunity to ride the mother road. The Small town of less than 900 is the county seat of Oldham County. Take a quick right turn on North US 385 to visit the restored Magnolia Gas Station and visit the courthouse square. making your way out on Business Loop 40 is Rooster's Cafe which offers quite a bit of classic roadside diner flare in a converted Sinclair Gas Station.
Adrian
Adrian is a small spot you might miss if you aren't looking. a quick trip down the road will find you at this curious spot that hosts the midpoint cafe and marker right across the street which marks the midpoint of the Route 66 between Los Angeles and Chicago. Cars fans take note, former owner Fran Houser was the inspiration for Flo the owner of the V-8 Cafe.
Glenrio and New Mexico
Not long after Adrian the Texas/New Mexico line comes up and yep, there's a little bump as you trade the concrete pavement for asphalt and a huge "Welcome to New Mexico" sign. Your first big exit is Glen Rio which gives you access to the mother road again but... the semi ghost town offers no services and the folks who do live there like their solitude. keep moving on. There's a few things to see but not much here left. You'll pass through San Jon next which offers something unsual in the eastern New Mexico high plains, Indian Food.
Tucumcari
Tucumcari is one of my favorite stops. The Blue Swallow pictured above offers rest for the weary traveler. It's as close to a halfway point between Amarillo and Albuquerque.  There is plenty of neon in this town and it still has quite a bit of the old mother road feel with it's vintage hotels, curio shops and cafes. 30 Miles west you'll find the actual halfway point in Newkirk which is little more than a gas station. a quick right on NM 129 will eventually get you to Conchas Lake State Park.
Santa Rosa
Santa Rosa is your next stop moving west on Interstate 40, and like Tucumcari has a good section of mother road that serves as it's main drag. as you make your way into town you quickly head down the hill and cross the Pecos River which brings you to US54. A left here will take you to Southern New Mexico and White Sands National Park and ultimately back into Texas in El Paso. The Town itself has plenty of classic hotels and diners all open serving up a slice of Americana. Your next stop might just be the largest truck stop in New Mexico.
Clines Corners
Clines Corners is simply a very large truck stop and souvenir shop. Nothing More... Nothing less but at this point Albuquerque is getting closer.
Moriarity
Another quick stop on the way. hop off here and take NM333 which serves as the original route 66 route and will take you almost all the way into Albuquerque. At this point the Sandia and Manzano Mountains are in the distance and you're less than an hour out.
Tijeras Pass
You made it! You're in Between Sandia Crest and the Manzano Mountains to the south. There's a little stretch of road here where you can take the mother road and if you hit the grooves just right you'll hear America The Beautiful. Don't believe me?
Oh before you head in, maybe make a quick stop to Sandia Crest up the winding road to get a view of Albuquerque from just under 11,000 feet up.
Happy Motoring! and Watch that speed!
Things We Would Put In Our Version of Cadillac Ranch
The Charm of Main Street and Downtown Borger, Texas
This once-lawless Wild West boomtown is now a quiet town of 13,000 nestled in the Texas Panhandle. Located 40 miles north of Amarillo and 13 miles from Lake Meredith, the city of Borger is your typical small town. Friendly faces and warm greetings will surround you as you stroll down Borger's Main Street--a trip we highly recommend you take at least once in your life time.
LOOK: Route 66's quirkiest and most wonderful attractions state by state
Stacker
compiled a list of 50 attractions--state by state--to see along the drive, drawing on information from historic sites, news stories,
Roadside America
, and the National Park Service. Keep reading to discover where travelers can get their kicks on Route 66.