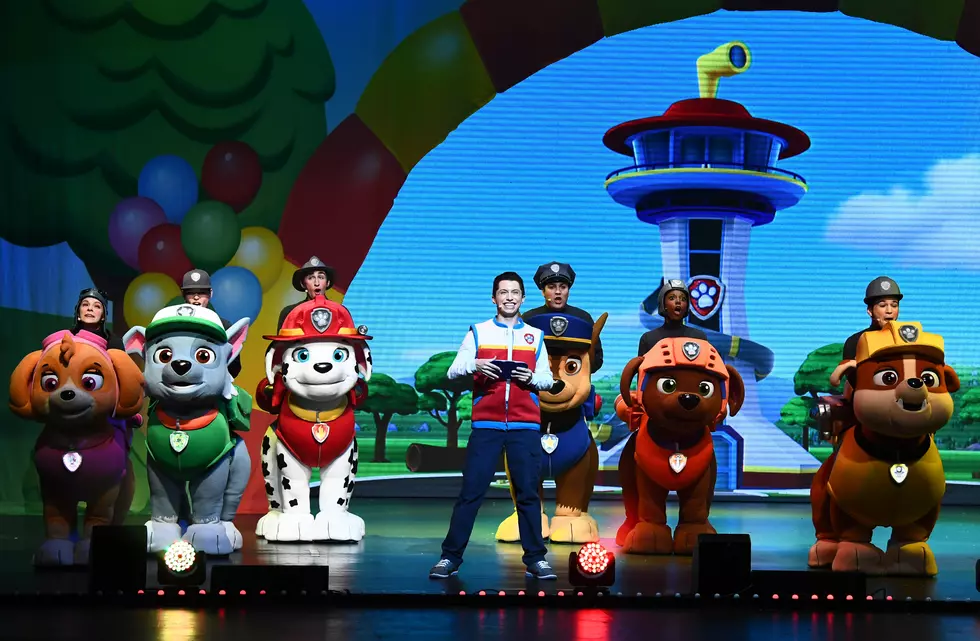 Paw Patrol Live In Amarillo! Get An Exclusive KISS FM Discount!
HOLLYWOOD, CA - OCTOBER 14: Nickelodeon And VStar Entertainment Group's PAW Patrol Live! "Race to the Rescue" at Dolby Theatre on October 14, 2017 in Hollywood, California. (Photo by Emma McIntyre/Getty Images for Nickelodeon)
If you have young ones, you know about Paw Patrol. Now this popular children's show is coming to Amarillo with Paw Patrol Live! Based on the hit preschool series the live touring show bring kids' favorite pups to the stage for an action-packed, high-energy, musical adventure. During each performance, the pups show that no job is too big, no pup is too small, by sharing lessons about citizenship, social skills and problem solving.
Paw Patrol live is approximately 90 minutes, with a 20-minute intermission and features a thrilling soundtrack, special effects, amazing lighting and world class choreography.
All the characters will be on hand for this incredibly entertaining show.
Chase*: the police dog German shepherd
Marshall*: the fire dog Dalmatian
Skye*: a high-flying cockapoo (cocker spaniel/poodle mix)
Zuma: the water-loving chocolate Lab
Tracker: a brown-and-white Chihuahua bilingual in Spanish and English
Rocky*: a gray-and-white mixed breed pup
Rubble: the trusty little English bulldog
Everest: the snow dog Siberian husky
Ryder: the 10-year-old boy in charge of the dogs
Mayor Goodway: dramatic, funny, but oh-so-loyal to the pups
Chickaletta: the mayor's pet chicken, of course
Cap'n Turbot: a marine biologist and the watchman of Adventure Bay
Wally: the captain's pet walrus
Francois: Cap'n Turbot's flashy cousin with the thick French accent
Katie: a young girl around Ryder's age who runs the pet clinic
Farmer Yumi and Farmer Al
Sweetie: the villain! She belongs to the princess of Barkingburg, and she's up to no good.
Sid Swashbuckle: a greedy pirate
Arrby: Sid's dachshund sidekick
Jake: Everest's caregiver and owner of a ski resort
The Kitten Catastrophe Crew: the cat versions of the PAW Patrol, these kitties work for neighboring Mayor Humdinger.
The show is August 30th -September 1st at the Globe News Center. For tickets click here.
PLUS! Enter the code FAMILY and get 25% off select seats for all shows! HURRY!