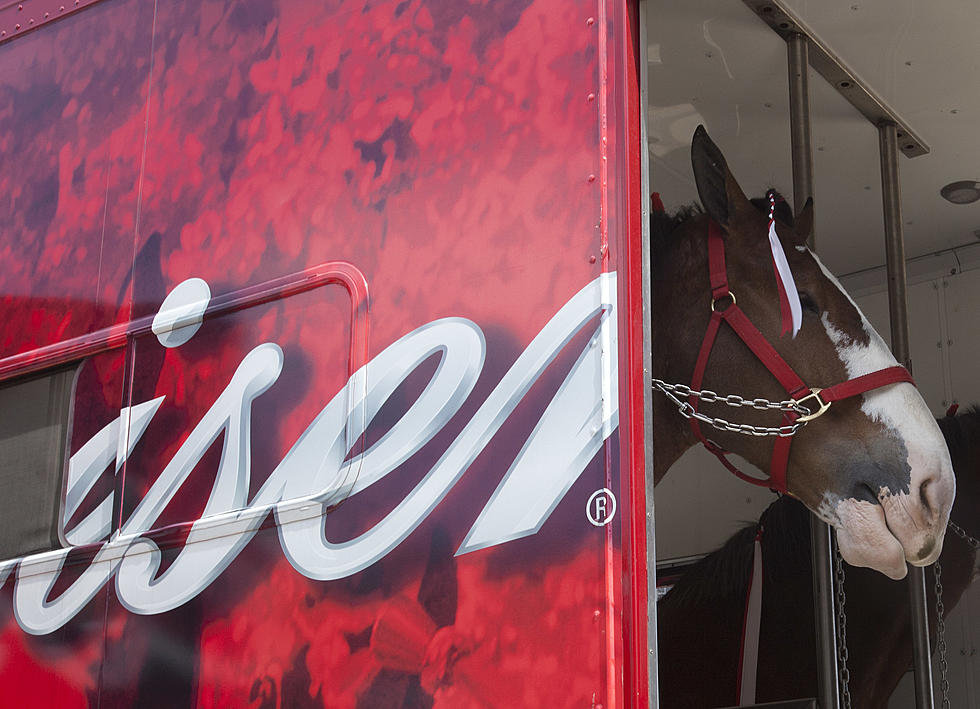 A Majestic Site To Be Seen! The Budweiser Clydesdales Are In Amarillo.
Getty Images
It's happening, it's REALLY happening!
Some of the most famous animals in the world are coming.
The famous Budweiser Clydesdales will be romping their way through Amarillo tomorrow, Wednesday November 10.
Sure, you may have seen Clydesdales up close, but have you ever seen THESE? Not many have gotten the opportunity to. I'm one of the lucky ones, and I can tell you that they are an absolutely incredible sight to see.
I mean come on, how many Clydesdales do you know that can make friends and be sweet with a dog like this?

Officials with Center City of Amarillo announced they will be gracing us with their presence beginning at 4:30pm.
Their route will be on Polk Street, between 3rd and 10th Street downtown. No doubt they will slowly make their way down the route to give you plenty of time to take them in and snap some pictures.
Once they've made their voyage through the Amarillo streets, they'll be stabled at the Amarillo Civic Center Complex through Sunday. They'll be located in the north exhibit hall there.
I can tell you from experience that missing a chance to see the Budweiser Clydesdales is not something you want to do. If you can't make it to their stroll through downtown, definitely go and see them. While they do get out for plenty of appearances, there's not guarantee they find their way back to the 806.
If you don't know a whole lot about them, Budweiser has used them in commercials for YEARS. Everyone anticipated the latest Clydesdale commercial every Super Bowl, and they have always been received with a positive response.
To learn more about them before you come out to see them, go behind the scenes with them below.

Here's Some Of The Exotic Animals You Can Own In Texas
Shockingly, Texans can legally own these exotic animals--provided you've filled out the massive amounts of paperwork required.
Wildlife of the Texas Panhandle
The Texas Panhandle is filled to the brim with wonderful species of wildlife. Here are some of the incredible animals that share their home with us.