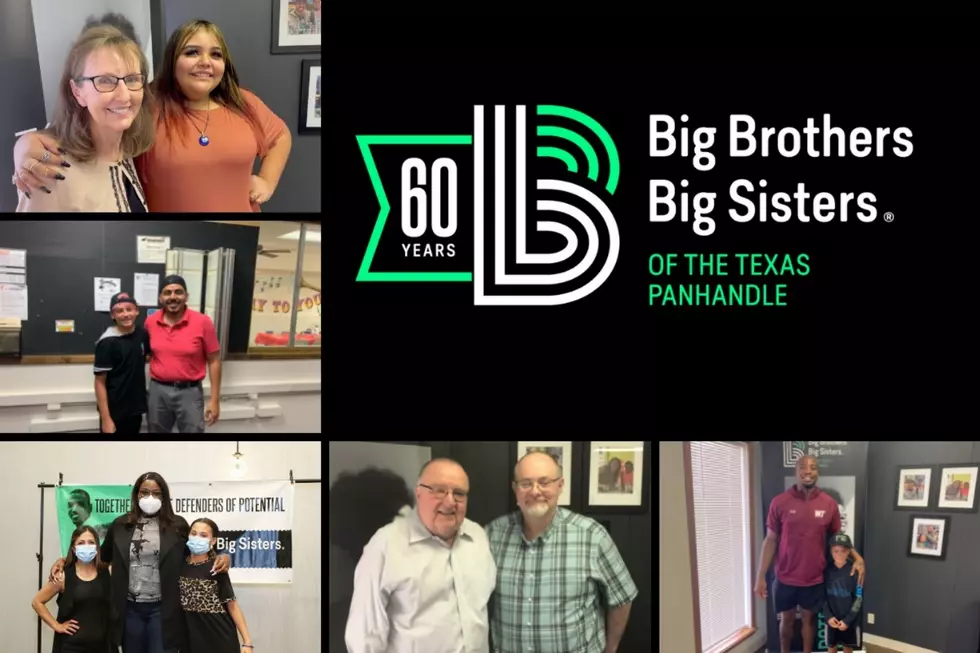 Help Save Big Brothers Big Sisters of the Texas Panhandle
Photo Courtesy: BBBS Tx Panhandle
Sometimes life takes a toll on certain organizations.
Due to the effects of COVID-19 and not being able to raise funds in 2020 and struggling to raise funds in 2021 and 2022, A organization near and dear to my heart has had to make a difficult decision. Because of these funding limitations, limited volunteers and staff changes. Big Brothers Big Sisters of the Texas Panhandle are having to close down their physical office in Amarillo and also the office that served Perryton, Spearman, and Gruver. Big Brothers Big Sisters have been serving the Texas Panhandle since 1961 and thousands of children have been helped by this organization.
Here's something you may not know. Even though Big Brothers Big Sisters is a National Organization, each agency is responsible for its operating budget. They rely on grants, donors, and fundraisers to keep the doors open and serve the youth in our area. Those that are a part of the program are not charged fees to be involved. The program is completely free to the Bigs and Littles that are served. It costs about $1200 a year to fully fund one Big/Little Match.
They want the community to know that Big Brothers Big Sisters is not shutting down. They are going on a limited capacity basis. They will continue to serve their current Big and Little Matches and they will limit new matches.
The organization will take the next 2 years to focus on raising funds to be able to support more matches. This tough decision was made for the good of the agency. Instead, of struggling and trying to keep two offices running and maintaining an entire staff, they will focus to rebuild the program so more youth can be served in the future.
BBBS is the only organization in Amarillo whose main focus is the one-to-one mentoring of at-risk youth ages 6-14. Many of the children that come through the program are from low-income, single-parent families, homes where one or more parents are incarcerated or on parole, and a lot of the children are being raised by family members other than the parents. By mentoring these children, cycles of poverty, high school dropout, crime and so much more are broken. These are the kids that need that one-on-one interaction. They need that extra friend in their life.
The kids served by BBBS go on to graduate from high school and move on to college or trade schools. They become the future leaders of Amarillo. This is why this organization is so very important.
The agency has developed a plan to make sure it can continue to serve the youth of the Texas Panhandle.
So how do we save Big Brothers Big Sisters? Help get the word and help them to regrow.
How can you help Big Brothers Big Sisters right now? If you are a business, you can pledge to support them, by donating funds. You can help by sponsoring their fundraisers. Work with BBBS and help support them by creating community fundraisers and donating those funds back to the organization. If you are a business, foundation, or individual that is interested in supporting this amazing organization, please reach out to Chris Flores at 806-341-2776.
This agency has a BIG future, and these children have a BIG future. Help save this organization. Spread the word, open your hearts and wallets, and encourage other people you know to do the same.
Downtown Amarillo Over The Years
Downtown Amarillo has seen an incredible metamorphosis. Take a look at the photos below to see just how much it's changed--you won't believe the difference.
The Drive-In: Amarillo's Classic Drive-In Theaters, Past and Present
Any resident of Amarillo worth their salt knows about the Tascosa Drive-In movie theater.
But did you know about the other drive-in theaters?