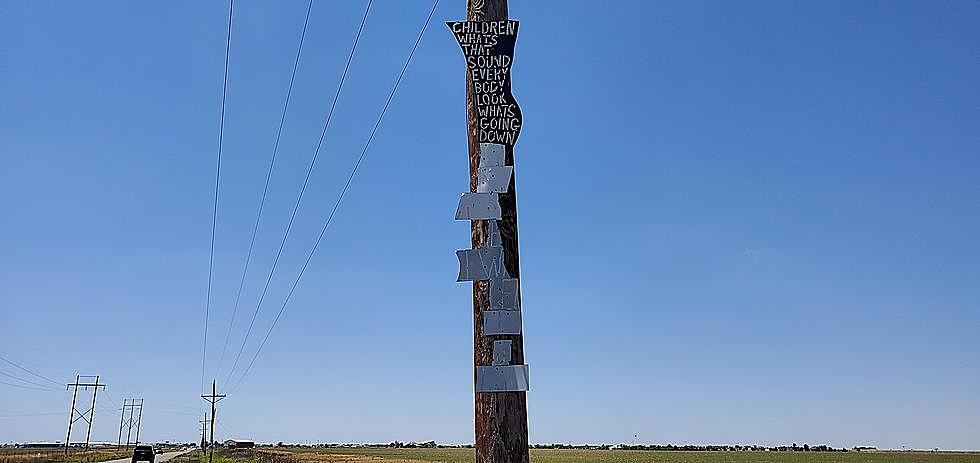 Remember The Weird Signs On Coulter? They're Now Part Of History.
Charlie Hardin
For years I've been driving by the odd assortment of signs lining Coulter heading south toward McCormick. Eyes, song lyrics, philosophical meanderings lined the side of the road...until recently.
Those weird signs are now officially a part of Amarillo history. They've been taken down.
Coulter's Thought Provoking, Ear Worm Invoking Signs Are No More
It's been years now, but I once wrote about the signs I saw everyday on that stretch of Coulter. I did my best impression of Sherlock Holmes and decided to see if I couldn't make sense of them.
Most of them were song lyrics. In fact, it seemed the majority were the more that I looked into it.
After that article was published, the daughter of the man responsible for the head-scratch inducing signs contacted me to give me more of the story.
The Odd Signs On Coulter Were Part Of A Legacy
Amarillo is not stranger to odd expressions of self framed as art. For example, I helped inspire a week long display of half-buried traffic barrels at Cadillac Ranch. It's something we do in Amarillo.
The signs were not all part of one big message as I had originally thought. Instead they were a collection of quotes and song lyrics that meant something to the man responsible. Nothing more. Nothing less.
Speaking with his daughter, I found out that he had tragically passed away. The signs, however, lived on and carried with them the legacy of his fun loving free spirit.
Road Work Leads To Retirement Of Coulter's Infamous Signs
According to a social media post made by the creator's daughter, there is a project to widen that stretch of road. That means those poles carrying the signs would be no more.
Instead of let the signs disappear forever, they were rescued and delivered to the daughter for safe keeping.
While we may not see them all as we travel up and down that stretch of Coulter, the signs live on. So does the legacy they carry with them.
Weird Signs On Coulter
The Incredible Street Art You'll Find Hidden Around Amarillo
Amarillo is full of astonishingly beautiful artwork in the most unlikely places. Check out our collection of the hidden gems you'll find around town. Some, you'll recognize from Downtown and others you might have to go hunting for.
Things We Would Put In Our Version of Cadillac Ranch