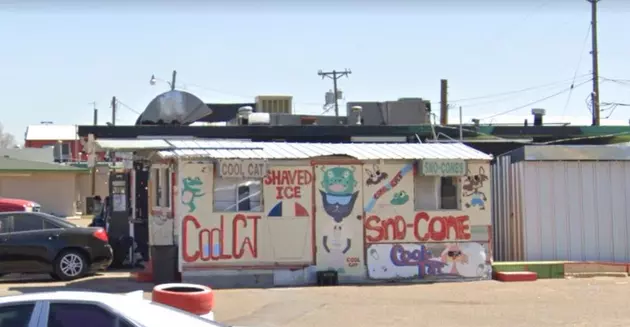 Beloved Amarillo Sno Cone Stand Got Hit and Destroyed Last Week
credit: Google Maps
When I saw the news on Facebook I had to message my daughter right away. When we lived in a house near Sam's we always would make trips to Cool Cat Sno Cone Stand. We visited there a lot. We had a punch card because we were frequent customers.
About a week ago, last Friday to be exact Cool Cat Sno Cone Stand was hit and destroyed by a vehicle. Whoever was driving fled the scene. I am assuming the vehicle was stolen. I mean otherwise they would have just tracked the owner down. That hasn't been the case.
Luckily sno cone season is over for the year. I can just imagine all the disappointed kids who have driven by with their families and have seen the damage. I know as grown adults both myself and my daughter were heartbroken. Even when we moved out of the neighborhood we would still stop by there to get a sno cone. They really had the best in town.
My daughter would always leave with a cool sticker too. Cool Cats was the coolest sno cone stand. Since the damage has happened, the owner, Bill Wall, aka "The Frog Man" as we all know him is hoping to rebuild.
Right now it is all boarded up. Bill is hoping to have it back to being operable by next sno cone season. His daughter has decided to help and we all hope the community steps in to help. A Go Fund Me has been set up. According to the Go Fund Me
Last night (10/1/2021) in the wee hours of the night someone ran a vehicle into his building, destroying it. The building will have to be rebuilt. The driver fled the scene so there's a good chance no one will be held responsible for this carelessness.

If you've ever been to Cool Cat you know he's a great man with great snocones and definitely didn't deserve this. Please help us help him to rebuild! We would be beyond grateful.

Any funds raised beyond what is needed will go toward some type of charity.
As of last night about $1800 has been raised. They are going to need a lot more to rebuild this great business. I really hope that the person responsible for this accident is found because he needs to take responsibility. Until then our great community is being asked to step up.
The Incredible Street Art You'll Find Hidden Around Amarillo
Amarillo is full of astonishingly beautiful artwork in the most unlikely places. Check out our collection of the hidden gems you'll find around town. Some, you'll recognize from Downtown and others you might have to go hunting for.
Places to Take Pictures in Amarillo