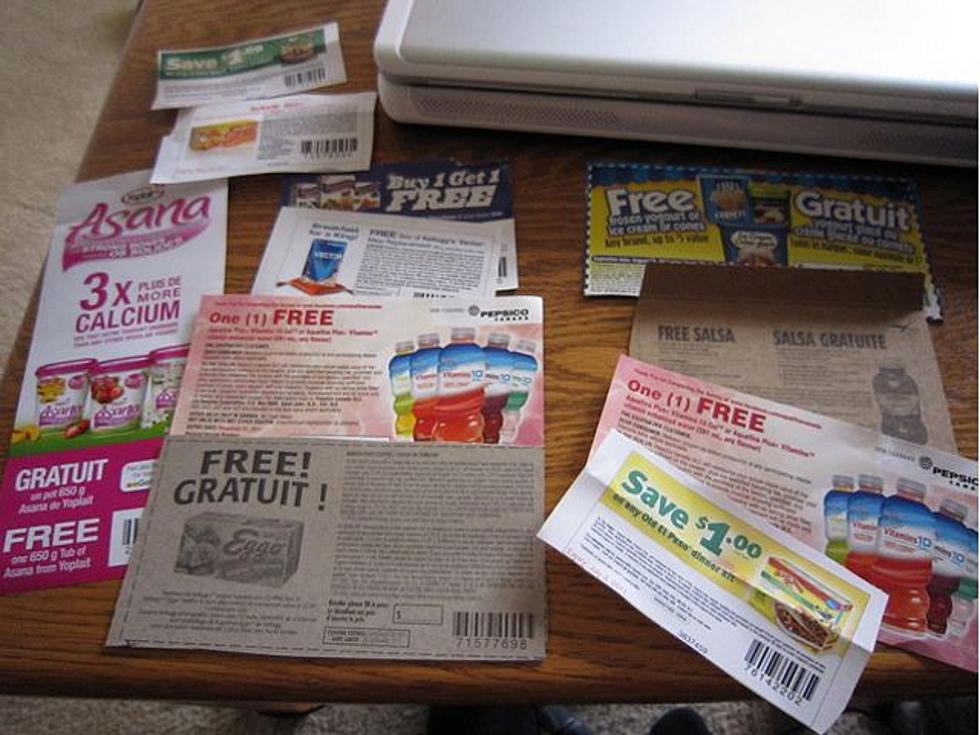 I Couponed Once…I Was A Colossal Failure. Can You Help Me Amarillo?
exousia.etsy, Flickr
So I've been here in Amarillo for 6 months now. I feel I'm fully adapted to the city now.
The one thing I can't seem to wrap my head around is why groceries are so much more expensive here than I'm used to from Austin.
So here I sit, trying to think of ways to save some dough on those life essentials. I mean, with a family of 4 (soon to be 5), and 2 of those family members being young boys who love to eat, I need ways to cut down the costs.
In all of my searching, I keep being led back to one thing...couponing. Here's the problem with that. I tried that once. Let's just say it didn't go well.
So how did I get wrapped up in the couponing idea? Well, it was back when it was really taking off and there were TV shows about it. I'd watch these shows in absolute awe of how they'd go into stores, get $300-400 worth of items, and walk out paying like $5. It was astounding.
I thought to myself, how hard could it really be? I mean, all I have to do is go out, buy a bunch of newspapers to get the coupons inside them on Sunday and I'm going to cut my grocery bills down to nothing!
Yeah, that didn't work. I didn't have the slightest clue as to what I was doing. I'm sitting in the store with my little index card holder thing full of coupons...that were ultimately useless. Ok, maybe they weren't useless. I still saved a touch here and there, but nothing like I saw on TV.
I started to think to myself maybe the TV show was all fiction, maybe the stores were in on the production of the show and just making it LOOK like you could do it. Then I saw people around me able to stockpile some of those more expensive items like laundry detergent, cleaning supplies, etc. Those are the things that drive my bill up quickly.
This is a real thing, it actually does work, and I can save a TON of money on groceries. So how do I do this Amarillo? Do I just run out and buy 20 copies of the Amarillo Globe every Sunday? Where do I find the store coupons I'm supposed to lay on top of the newspaper ones? How do I get the store to pay ME instead of the other way around?
I'm all ears at this point, because I really want to do this. Drop some suggestions below so I can do this the RIGHT way. I promise, I'll keep you up to date on how it's going.
Teeny Tiny Towns of the Texas Panhandle
Don't blink! You just might miss these TINY towns that are dotted around the Texas Panhandle.
Some of these are unincorporated communities and some of these are just plain ol' small!
Either way, these teensy weensy tiny towns and their populations will make you say "wow" (and maybe even squint and say "that's all!?"). Check them out:
This Huge Cabin In Palo Duro Canyon Is Top-Notch Glamping
This cabin is (to us) the definition of "glamorous camping".
This three bedroom rental is tucked away in the Palo Duro Canyon. It's a cabin with serious room, meaning it can fit up to eight guests--a girls trip, family vacation, or any bigger group.
The cabin is available for booking through
glampinghub.com
and the description along with the provided photos is enough to catch the eye of anyone ready to get out of town and away from it all.....without having to go very far.
It's a beautiful place with woodwork throughout, full amenities, and all the mandatory electornics (and WiFi!). If a group of people were to split the cost of their stay between each other, it is without a doubt one of the most budget-friendly options for vacations.
The four day minimum stay required to make a booking is the only drawback to this diamond in the rough of a rental property--but it's nothing a little planning ahead and vacation time can't remedy.