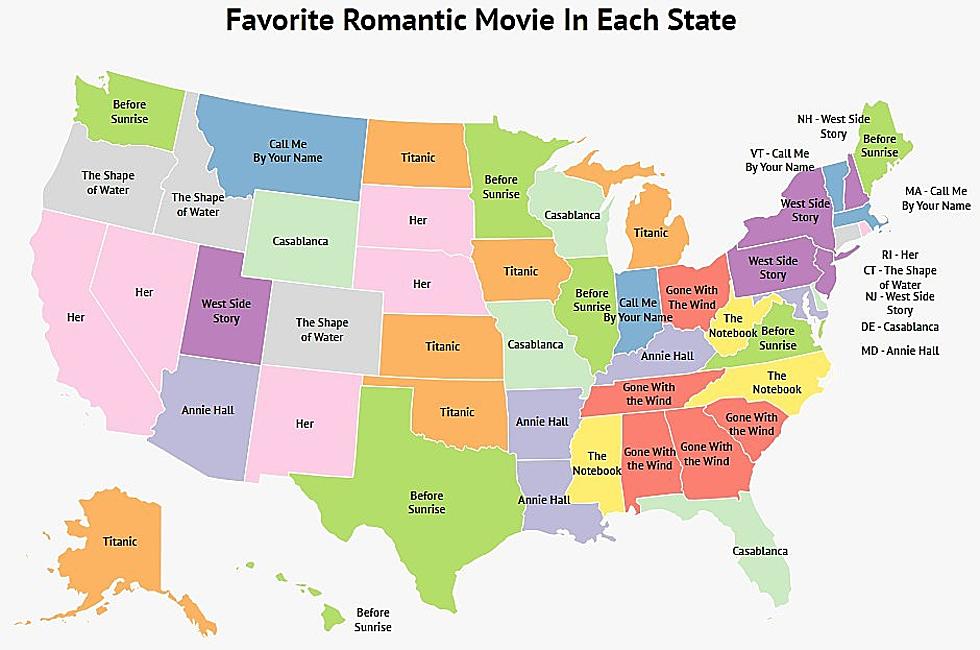 Texas' Favorite Romantic Movie is Before Sunrise? I Call BS!
Photo Credit: Zippia.com
We all know the day of love is on it's way.  Either you love it or your hate it or you just go about your life and treat it as another day.  However, when it comes to romantic movies, they are fun to watch.
A recent study found the most romantic movies for each state, and Texas' Favorite romantic movie was Before Sunrise?  Really?  Don't get me wrong, it's a good movie, and a great series, but best, no.  No, it's not.
I'm not even sure, I agree with any of the other choices on this map. Ok, maybe The Notebook and Titanic.
Her? Annie Hall? The Shape of Water?  Really?!?
Where are all the greats?
The Proposal
How to Lose a Guy in 10 Days
Crazy, Stupid, Love
Sweet Home Alabama
Always Be My Maybe
Easy A
The Wedding Date
13 Going on 30
PS I Love You
Leap Year
Crazy Rich Asians
I can't be alone in feeling this list is way off.
How did they figure out this list?
To determine each state's favorite romance movie this Valentine's Day season, we first compiled a list of the top 10 most popular romance movies. We included a healthy dose of all-time classics and modern masterpieces, based on their domestic box office revenue and notoriety.
I want to know what you think?  Do you think this list is spot on?  I mean, half the country hasn't ever seen Casablanca or Gone With the Wind.  Yes, they are classics, but no one wants to sit through a 4-hour movie anymore.
Help me out, and let's prove this poll wrong.
The 10 Worst Romantic Comedy Clichés Of All Time
Here are the most annoying tropes we're tired of seeing in rom-coms.
Places to Take Pictures in Amarillo