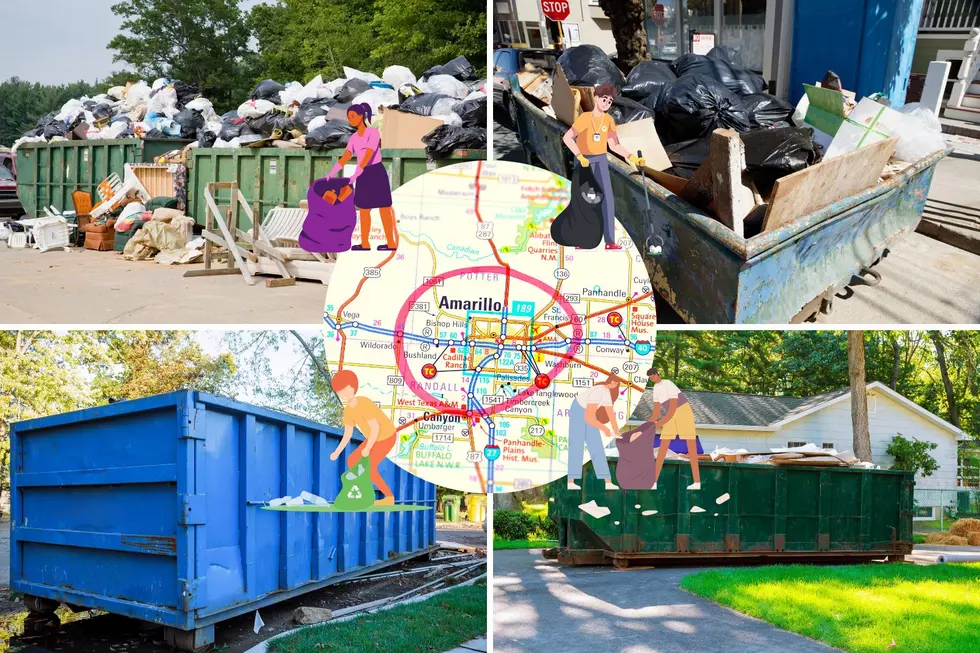 Urgent! It's Time to Take the Trash Out Amarillo
TSM Amarillo
Let's face it Amarillo has gotten a bit trashy, with dumpsters overflowing and people just dumping their junk in random places.  It's time we cleaned it up.
National Cleanup Day is Saturday, September 17, 2022.  It's a day when people all over the country clean up their cities.   The City of Amarillo is participating and has a huge goal to collect 100 tons of trash.
Roll-off containers will be placed throughout the city and available for the citizens of Amarillo to bring and throw trash away.  The roll-off containers will be located at the following locations:
Amarillo Downtown Library, 413 S.E. Fourth Ave.
East Branch Library, 2232 E. 27th Ave.
North Branch Library, 1500 N.E. 24th, Ave.
Northwest Branch Library, 6100 W. Ninth Ave.
Southwest Branch Library, 6801 W. 45th Ave.
Eastridge Elementary School Park, 1314 Evergreen St.
Bones Hooks Park, 2000 N. Hughes St.
San Jacinto Park, 100 S. Louisiana St.
Many people participating in the National Cleanup Day are cleaning up their neighborhoods.  A lot of Amarillo neighborhoods seem to be junk dropoffs, where people throw away mattresses and old furniture in the alleys. etc.  Others drop off old tires and old concrete; this is illegal, but some certain businesses do this because it is a cheap way to dispose of stuff without hurting their pocketbook.
Even though the neighborhood citizens don't trash these areas they do take pride in their part of Amarillo and clean it up and this day helps do that.
"We want everyone participating in National Cleanup Day to have a convenient way to dispose of unwanted items in neighborhoods across the city," said COA Director of Public Works Donny Hooper. "Community support in the past has been fantastic. Hopefully, we can reach our goal of picking up more than 100 tons of trash and once again help improve the entire community."
Citizens and COA picked up over 72 tons of trash last year and 191 tons of trash was collected during an Earth Day campaign in April.
Places to Take Pictures in Amarillo
Beautiful Murals by Blank Spaces Found Around Amarillo
The student-led art group, Blank Spaces, is paving the way. The WTAMU group has worked tirelessly to create a number of stunning murals for several places in the Amarillo area. Check them out!