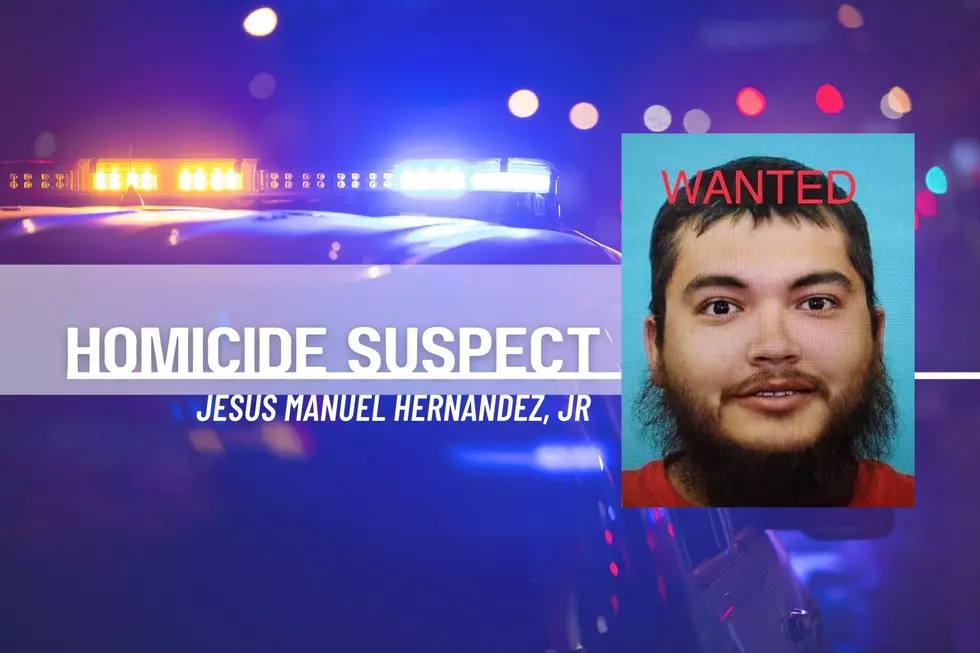 APD Searching for Suspect in East Amarillo Shooting
TSM
According to a recent release by Amarillo Police Department, officers were dispatched to a shooting report yesterday at East Park, located at 700 S. Ross. Upon arrival, they located a victim, identified as Carlos Montenegro, 65 years old.
The APD Homicide Unit was called to investigate, and they soon identified 27-year-old Jesus Manuel Hernandez, Jr as the suspect.
UPDATE: The Amarillo Police Department officers located Jesus Manuel Hernandez Jr at an apartment in the 1600 block of Dale Street. Hernandez was taken into custody on his murder warrant and booked into the Potter County Detention Center.
As of the time of this publishing, Hernandez has not been located and law enforcement is asking anyone with any information as to the suspect's whereabouts to call the Amarillo Police Department at 378-3038 or Amarillo Crime Stoppers at 374-4400. Tips can also be given anonymously online at www.amapolice.org or on the Amarillo Crime Stoppers P3 mobile app.
Fifth Shooting Death for July 2022
Saturday's homicide marks the fifth shooting-related death in the month of July. Other incidents that have occurred in the city are:
July 17, 2022 - Police were called to a local hospital in the early morning hours in regards to a man who had been brought in with a gunshot wound. The man, later identified as 31-year-old Javier Hernandez, died of his injuries.
Witnesses provided officers with the information that the shooting took place near the 1100-block of South Fairfield Street, where the victim had gotten into an argument with several people--one of whom pulled out a gun and shot him. The shooter, later identified as 21-year-old Oscar Adame was soon located and arrested on a murder charge.
July 17, 2022 - At about 7 AM, officers with Amarillo Police Department responded the area of 34th and Hawthorne on reports of a man standing outside and firing a weapon. He had reportedly hit at least one residence. When police arrived on the scene, the man continued to fire his weapon, prompting officers to return fire. The individual, later identified as John Todd Bigham, 53, was wounded and transported to the hospital. Bigham did not survive his injuries.
July 22, 2022 - Randall County officials responded to a shooting on the 2800-block of McCormick road at 11:45pm. One person was reported dead from a gunshot wound, but no further information has been released.
July 28, 2022 - Officers were dispatched to Eastridge School Park, located at 1300 Evergreen, at 12:14 a.m. on a call of a man who had been assaulted at the park. Medical personnel pronounced 53-year-old Khamphanh Phoummphard  dead on the scene. Officers then arrested 30-year-old Adrian Manuel Hinojos and booked him into Potter County Detention Center on a murder charge.
Disclaimer
The above information has been assembled by publicly available media releases and other avenues of information. Details within this story are subject to change as per applicable law or releases of forthcoming information.
Amarillo's Most Wanted: Help Bring These Fugitives to Justice
These are the fugitives who make up Amarillo's Most Wanted
list
. The individuals on this list have been accused of serious crimes and are considered a danger to society.
If you have any information about these FUGITIVES, you are urged to call Amarillo Crime Stoppers at
(806) 374-4400
or submit a Web Tip by visiting
THIS LINK
.
NEVER TRY TO DETAIN THE FUGITIVE YOURSELF!
You do not have to give your name. AMARILLO CRIME STOPPERS will pay a reward of up to $300 and you WILL remain anonymous.
Updated as of 6/18/2022
Executed Death Row Inmates from the Texas Panhandle
The following individuals were convicted of Capital Murder for crimes committed in the Texas Panhandle (Amarillo and its surrounding areas) and sentenced to death by lethal injection. Read a brief summary on the area's executed Death Row inmates.
All information and photos have been taken from
TDCJ
and court records.