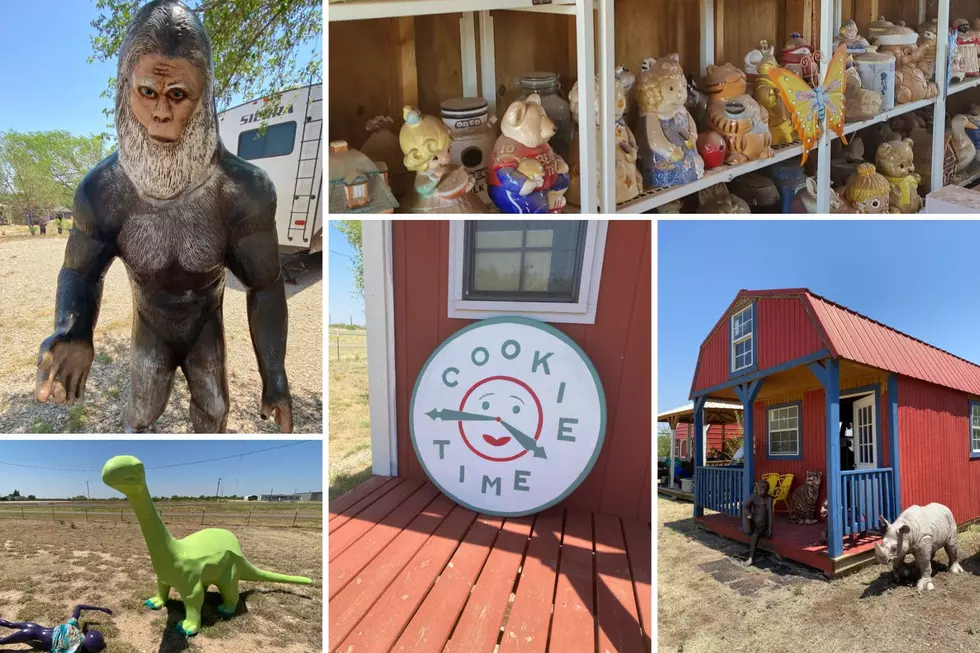 Dinosaurs, Jesus, Bigfoot: The Strange, Whimsical Magic of 'Cookie Time' in River Road
Sarah Clark/TSM
Last week, we put out a desperate plea: Who's behind the mysterious Dumas highway dinosaurs? We had few clues as to who had put up the miniature statues of dinosaurs and aliens in a field by the Cherry street exit.
But no sooner had we published the plea did the answers start rolling in. Within a few short hours, we were connected to the women behind the dinosaurs.
And we also found out what the cryptic words 'Cookie Time" meant. The question isn't what was Cookie Time. The question is when will it be open. It turns out that Cookie Time is a work in progress, and the gates to the public will open sooner than later.
A Passion For Cookie Jars And Smiles
I actually got to meet the owner of Cookie Time, the mysterious home of the dinosaur statues on the way to Dumas. Suzan is a petite and bubbly personification of joy. Her self-professed passions are: making people smile, and cookie jars.
She is the driving force behind Cookie Time, a cookie jar museum to soon be opened in Amarillo. It combines two things she is obviously passionate about; cookie jars and making people smile.
Suzan was an absolute delight to be around. In between telling us the names and history of some of the cookie jars and statues, we told jokes and shared a few laughs.
A Decades Long Labor Of Love
Surprisingly enough, Cookie Time has been in the works for quite a while. Without putting a number on exactly how long she's been working on it, she made it clear it's been a work-in-progress for a long time.
When she decided to build Cookie Time, the property it is on was completely empty. If you go out there now, you'll see something new every time you turn around.
That means every statue, every cookie jar, every building had to be moved on to the property at some point. Not a small undertaking.
Themed Cabins For Every Kind Of Cookie Jar You Can Imagine
Speaking of cookie jars, there are just so many of them. Every cabin (and there's quite a few!) is lined with cookie jars. The cabins themselves house a particular collection.
Once Cookie Time is up and running, those cookie jars will all inhabit individually themed cabins. This is a planned collection of more cookie jars than I can count.
There's a Christmas cabin, an Old MacDonald themed cabin that looks like a barn, a circus cabin, and there's even a cabin reserved just for Jesus.
That's all just the tip of the iceberg. She's still adding to her collection.
The cookie jars still need to be sorted and moved to their right cabins. Soon, they will all be in their forever homes.
A Whimsical Playground For The Young And Young At Heart
Coming away from my visit out to the property today, this is what seems to be the biggest focus of Cookie Time. Suzan just wants it to be a place that everybody can enjoy.
She even mentioned making one of the cabins more of a "playroom" with a sign that basically spins the "must be this tall to ride" sign on its head.
Cookie Time: Coming Soon
When you speak with Suzan about her dream, the excitement can be contagious. As she begins detailing her plans for Cookie Time, you can't help but see it in your own mind's eye.
I asked Suzan when she hopes to finally open up Cookie Time for the public and she said she's hoping some time this summer. As you can imagine, there is a lot of work to still be done.
Hopefully her dream is realized sooner, rather than later.
LOOK: The Enigmatic Art Oddity of Cookie Time
This quirky and whimsical place is tucked away behind a fence off US-287N and Cherry Street. While it may seem like a head-scratcher at first, you'll soon find yourself drawn to the unique and memorable displays at Cookie Time.
Amarillo Landmarks: Negative Yelp Reviews
Yelp can be a strange and angry place. That's what I found out recently when I decided to sort the reviews by "lowest rating" first.
I was okay with the people upset over bad service and what not. But I came across a few reviews that, for lack of a better word, left me speechless in their scathing negative reviews on some of Amarillo's most iconic places. Prepare your self for plenty of head shaking and "I dunno" shrugs.
The Incredible Street Art You'll Find Hidden Around Amarillo
Amarillo is full of astonishingly beautiful artwork in the most unlikely places. Check out our collection of the hidden gems you'll find around town. Some, you'll recognize from Downtown and others you might have to go hunting for.
Neumann & Company: Boutique & Coffee Shop in Borger, Texas
One of life's greatest pleasures can be finding a true hidden gem. And that's exactly what Neumann & Company in Borger, Texas is!
Located at 503 N. Main St., this unique storefront is home to a stunningly beautiful boutique in the front and a delicious specialty coffee shop in the back. But more than just being a boutique and coffee shop in a small Texas Panhandle town, Neumann & Company is one of those rare places with a life of its own.
Not sure what we mean? Take a tour of this lovely crown jewel of downtown Borger, and then go take a short drive to visit the place yourself!