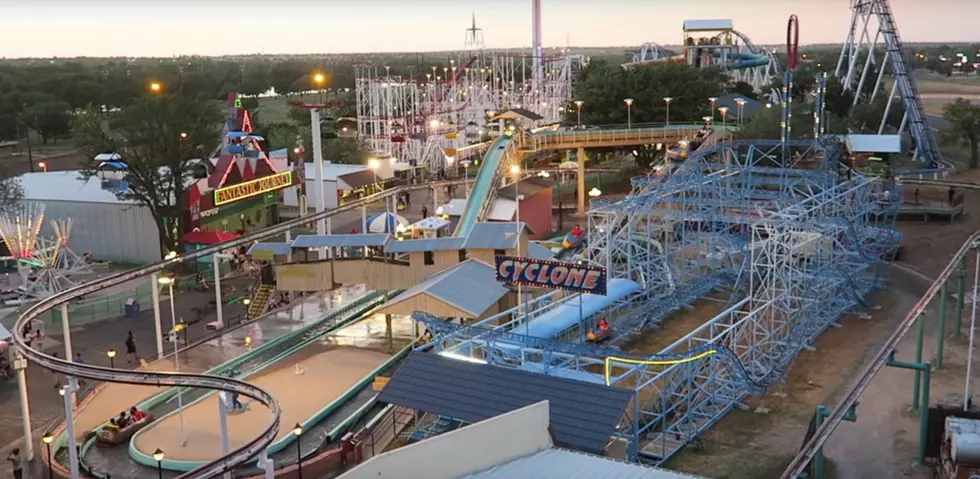 Have You Seen The Beautiful Ocean View Of Wonderland Park In Amarillo?
Canobie Coaster via YouTube
A lot has changed over the years. Amarillo has grown in many ways. The ballpark, parking garage, and a gaggle of coffee shops all come to mind.
Wonderland Amusement Park in Amarillo is open for the 2022 season, and apparently they have some amazing waterfront property you just have to see.
The Picturesque Landscape Of Wonderland Park In Amarillo
Recently, a post on Facebook caught the attention of several people when it posted photos of Wonderland Amusement Park. The photos show off the picturesque landscape that surrounds our local den of engineered amusement.
Let's break down what we can see in these photos:
Scenic view of the Palo Duro Pier which overlooks the Charles Goodnight harbor.
Fairly Ferry awaiting passengers to take across the harbor
I believe that's the First Happy National Lighthouse on the left
There's the Pak-A-Toot Towers
If you squint you can see the Maxwell's Coffee Bar Farm where there is a massive variety of coffee shops. There may be more coffee shops there than necessary, but at least there's options.
72oz Water Slide, which is called that because it is unnecessarily big and tourists find its existence fascinating. There's even a neat story about how a bet to ride the craziest waves led to it being created. If you can ride it without throwing up, your ride is free.
There's the 6th Street Patio where your main option is to sit outside for a bite to eat. It's overlooking the Cadillac Wading Pool Ranch and the Route 66 Lazy River.
In the background, just before the Prairie Dog Sod Poodle Coaster, you'll see the beginnings of the Highway Super Slide. It's under construction and has been for a while. It'll be nice once it's finished, though...eventually...maybe.
If You Believe Any Of That, I've Got A Bridge You Can Buy
As is the case with these kinds of posts on social media, locals are quick to point out that in no way does Wonderland look like that. We've seen it before.
Remember the white sandy beaches and pirate ships of Amarillo?
Or how about the beautiful winter wonderland of a mountain town we become at Christmas time?
This is just the latest in an odd, long running joke.
The Facebook page that posted the Wonderland meme-post mentioned in the comments that they're just trying to make the point that it would be nice to see some updated attractions.
Maybe the TikTok creators just want pirate ships and snow covered mountain peaks.
Either way, the easiest way to get views and interactions online is to say something that is blatantly wrong. People can't help but correct you.
If you want the right answer, give the wrong one online...or so I've heard.
If You Aren't In On The Joke And Are Really Confused...
...I understand. As most of us know, Wonderland looks nothing like those photos. There's no pier or harbor to speak of.
But there are bumper cars, and we do have a log ride.
If you're wanting a peek at Wonderland before you go, check this out...
And check out these water parks in Texas...
Top Ten Waterparks In Texas
They say everything is bigger in Texas, but even if we don't have the biggest waterparks in the world, we do make the biggest splash during summer. We have to - it's so hot! Here are our Top 10 Waterparks in Texas. Did your favorite make the list?
LOOK: THE BEST SWIMMING HOLES IN TEXAS
Visit These 16 Texas Cities And Towns At Least Once As A Texan
It's a fact that Texas is a huge state and because of its size, there are also a lot of things to see, visit and experience in The Lone Star State. Both Texas visitors and Texans alike should visit our awesome cities and attractions. By no means are these all the activities in these wonderful cities. They're just a few examples of things to do.